Future Shop goes small
A look at the retailer's small concept strategy as it gears up to open its latest store.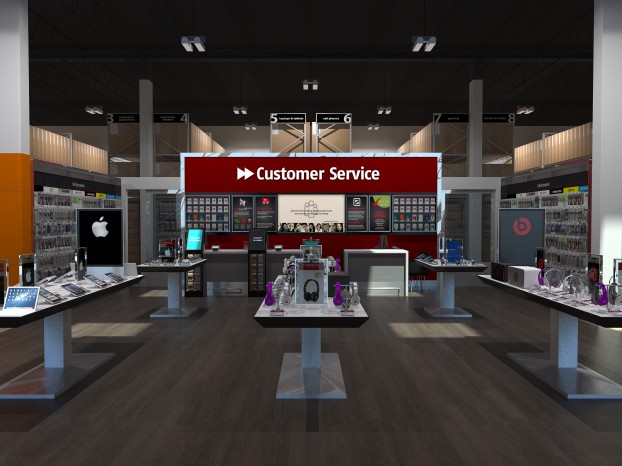 When you're a retailer with national presence, sometimes you have to think small to grow bigger. It's a strategy that Future Shop is employing as it looks to roll out its newest small concept store in Cornwall, Ontario.
With 134 stores across the country, the electronics retailer feels it has maxed out on growth in the larger markets and has been turning its attention to smaller communities, implementing a small concept model where a full-sized store wouldn't be economically practical. And it's been making adjustments along the way, working towards its vision of total retail – fusing elements of online and in-store customer experiences.
The latest incarnation of this strategy is the 8,000-sqaure-foot Cornwall store, which will hold its grand opening Nov. 21.
Key learnings were taken from pilot small concept stores rolled out in North Vancouver and Brockville, Ontario in 2012, which at one point were branded Futureshop.ca stores, but changed because of confusion among customers, says Elliott Chun, communications manager, Future Shop. In the case of the new Cornwall store, lessons from the pilot shops influenced its product breadth and availability. The new store has done somewhat of a 180, he says, by dedicating more than half of its space to the warehouse and less to its showroom (the two pilot stores had less warehouse space and more for the showroom), enabling it to offer the same amount of products as a full-sized location.
Customer feedback from the pilot stores helped spur this decision, says Chun.
"They're coming there as a destination shop and they wanted to leave there with what they had in mind. And if they didn't get what they wanted, they wanted a really quick turnaround of getting [it] – that sense of immediacy."
Communicating that the new store has the full range of merch as a regular store is part of the strategy – from installing a doorway and openings in the store enabling consumers to see through to the warehouse to pique their curiosity to incorporating the message into launch promotions.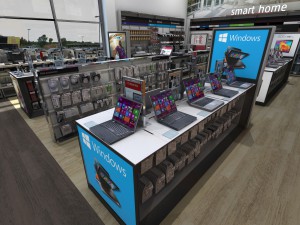 To generate buzz about its entry into the market and familiarize consumers with the brand, Future Shop kicked off a teaser campaign six weeks before the grand opening, featuring newspaper ads promoting a contest, inviting consumers to share their favourite spot in town, with the winning area to be photographed and turned into a mural in the store, says Erin Isberg, brand manager. It is also running geo-targeted digital banner ads in the lead-up to launch, plus radio promotions three weeks in advance.

Activity will ramp up the week before the grand opening, with a Future Shop-branded food truck distributing hot chocolate in branded mugs and gift certificates. Later in the week, Top Chef Canada winner Chef René Rodriguez will use appliances from the retailer to cook up appetizers to deliver to media and snacks for the local Boys and Girls Club, where they will leave the appliances for its kitchen.

Isberg says the retailer's breadth of assortment allows it to speak to everyone from teenagers to the town's older demo.

Cornwall has been on the brand's radar as an area to open a store since 2009, and it knew locals were heading to stores in Ottawa and Montreal, as well as shopping online.

Integrating online shopping with in-store continues to be a focus for the retailer, with the new store slated to offer mobile check-out (certainly during the holiday period, says Chun) enabling consumers to complete their transaction with staff members in aisle. (This was piloted in North Vancouver and Brockville, while urban markets like Toronto and Vancouver use the tech during busy times like Boxing Week or a midnight game release.) Cornwall will also feature the retailer's national Reserve and Pick-up service where consumers can place a hold on something online and within 20 minutes, retrieve it from the store. Meanwhile early next year, it plans to ship online orders from the store (rather than from a warehouse). This is slated to decrease shipping time, while also enabling the retailer to pull inventory from any of its stores.

And just like the models before it, Cornwall will serve as a blueprint for future small-concept locations.

"This is the next evolution of what our smaller format stores can look like," says Chun, "and as we look to further invest in other communities in Canada, this gives us a stronger footprint to work from, and we'll continue to build and take learnings from the Cornwall market now as we move ahead with stores of this size."