It's a new year – have you set your 2015 resolutions? Forget about losing weight, seeing friends and family more or reading a book a week (okay, keep those resolutions – all good things), what are your marketing resolutions? Here at strategy, we're seriously hoping folks jump off the gift-vertising train (we counted no less than 12 before the holidays), steer clear of a prank-vertising redux and ditch the dad-is-a-buffoon stereotype once and for all.
But, what are marketers actually hoping to accomplish in 2015? Yesterday, we chatted with Connie Morrison, SVP marketing and innovation at Canada Bread about her ambitions in 2015. Today, we talk to Chris Stamper, SVP corporate marketing, community and environment at TD. Check back tomorrow to hear marketing resolutions from more senior execs at top Canadian brands.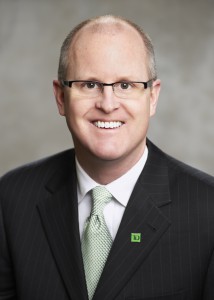 What are your marketing resolutions in 2015?
We've demonstrated leadership from a customer experience standpoint – number one brand in Canada by JD Power, nine years in a row – and that's a great foundation for our customers. But I think customers continue to look for more in their relationship [with brands]. So how can we deliver and translate that experience that we're recognized for into all the touchpoints the customer wants to interact with – whether that's on the phone, in a bank or online.
What will be the biggest challenge in meeting those resolutions?
[Banking is] a rapidly changing environment, and like every business, financial services consumers are changing quickly. So how do you be relevant, where the consumer wants to be, and actually anticipate where they want to be?
Can you give an example?
We just launched TD text – you can text your customer service question wherever you are. If I had said five years ago, "Why don't you text us your concern," customers would have said, "What?"
Now, consumers talk to their friends however they want – and text is the most relevant way to do that. So we launched a customer-service strategy to do that [too].
Any other resolutions?
The one thing we want to stop is customer irritants. We just did an omni-survey asking what are the things that are the most challenging from a banking standpoint. Things like access to the call centre, hold funds and password resets.
For example, if I forget my password, how do we make it easy so that I don't have to phone in and can reset it online? Or searching – when they go to find something on the website, how do we make it as strong as it would be if they were searching in Google?
What else are you looking to invest in?
We're looking at what we can do from a product innovation standpoint. [That could be] automated teller machines that are touchless or touch-screen activated. To start, we're partnering with PC Financial to launch a [mobile wallet]. 
We're continuing to invest in new technologies and find new ways to connect with [consumers], so you'll see more initiatives around that. We're trying to invest in our digital footprint as well by enhancing our tablet and app offerings. [We want to] be where the customer is and interact in a comfortable way.
What do you think you'll skip in 2015? 
I don't think we would ever do prankvertising. I don't think that's a comfortable experience – so you can count on us to never do that.