Anomaly skates through school
The shop is working with an alternative high school, where students design and sell skateboards.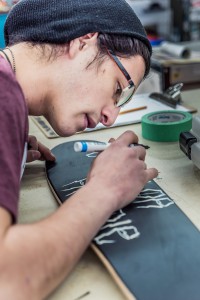 This story appears in the February/March 2015 issue of strategy. 
At the end of 2012, about six months after Franke Rodriguez came to Toronto to lead Anomaly's new office, the partner and CEO asked his staff for ideas on how the agency could give back to the local community in a long-term way that went beyond cutting a cheque or providing pro bono work. One staffer pointed him to Craig Morrison and Lauren Hortie, teachers at Oasis Skateboard Factory (OSF).
OSF is an alternative high school for at-risk youth who aren't engaged with the traditional secondary school structure. During their time at Oasis, students build a brand and design skateboards, longboards, apparel and more. Not just a glorified art class, the students earn credits by doing things like creating a business plan, preparing and delivering pitches and working with clients. Their final exam is a pop-up shop where they sell what they've created, figuring out their own orders and sales needed to break even.
"When I first asked Craig about the school he said, 'The values are creativity, innovation and entrepreneurialism,' and I told him it sounded like he was describing our agency," Rodriguez says. Since that meeting, Anomaly has partnered with OSF, with agency staff providing one-on-one mentorship to the students, hosting monthly lunch-and-learns and giving the students creative briefs for projects.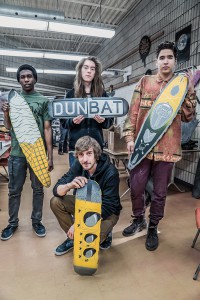 The school engages students by showing them how the skills it teaches are applicable in the business world, and Rodriguez says being able to lend his agency's expertise is the main motivator behind the partnership. But he acknowledges having young people in the office enamoured by their work energizes the team, and also gives them access to an ongoing focus group, since clients like Mini and Converse are always trying to reach a younger consumer. And when it comes to recruiting, the agency is also giving a new generation the exact tools it looks for in its staff.

"We are always looking for creative talent and it's almost like I get a jump-start on the next generation of brand builders and designers," Rodriguez says, revealing that a graduating Oasis student will join Anomaly as a summer intern. "We take on a lot of interns, but we know these kids and what they're capable of, so if they're ready, we're going to look there first."