Starbucks brings a taste of France
The coffee chain looks to put food in the hands of more customers with artisanal pastry offering La Boulange.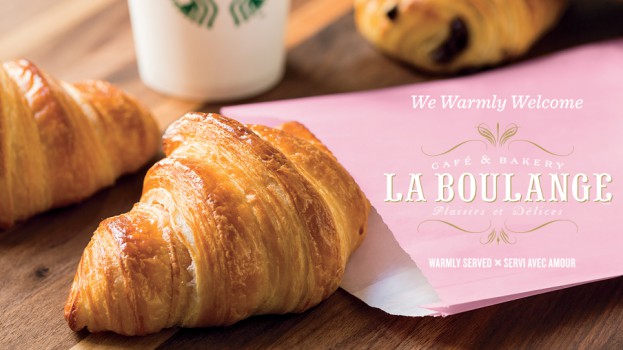 The pastry case at your local Starbucks might feel a bit more Parisian following the Canadian launch of La Boulange yesterday.

La Boulange is the creation of pastry chef Pascal Rigo, whose creations were first incorporated into U.S. Starbucks locations near the end of 2013. The offering includes pastries like danishes, croissants, brownies and scones, all baked using traditional French techniques and using natural, local ingredients.

Rigo and his team of chefs have brought nine artisanal, French-inspired pastries north of the border for the Canadian launch, including re-imaginings of Starbucks' top-selling pastry items in the Canadian market, like cookies and muffins, to fit in with the rest of the La Boulange line.

"We were lucky to be the next market to launch La Boulange following the U.S.," says Isabelle Hemond, food director at Starbucks Canada. "We get all the great learnings and can adapt that to Canada. We wanted to keep the Canadian favourites for our customers, but also make sure it fits in with La Boulange."

La Boulange has been launched in roughly 70% of Starbucks locations in Ontario and British Columbia, and is set to come to stores in Ottawa, Quebec and Atlantic Canada in March, along with Alberta, Manitoba and Saskatchewan in June.

In terms of growing its non-coffee offering, much of the public focus has been on Starbucks Evenings, which will see food like tapas served with wine and beer after 4 p.m. in a bid to bring in more customers after they've had their morning caffeine fix. But with only one out of every three coffee-buying customers also buying food at Starbucks, Hemond says there was an opportunity for growth in its food business during the daylight hours as well.

"Starbucks is a high-growth company," she says. "That growth comes from store expansion as well as cross-channel expansion. We are in CPG, food service and offer branded solutions now. But that also comes from growth in beverage and food, and there's an opportunity for customers that are already in-store to enjoy more food and have an elevated experience."

La Boulange is the next step in what Hemond calls Starbucks' "food journey," which began in September when it began offering breakfast sandwiches at its locations and will feature more day parts as the year goes on.

Hemond also offered an update on Starbucks Evenings, and said the goal was to test it out in Canada before the end of the year, although the size of the pilot launch has yet to be decided.

Aside from a small radio buy, La Boulange will mostly be promoted with in-store displays and direct marketing to members of Starbucks' loyalty programs and app users.