Different ways to feel the love
How Dempster's evolved its "Hug Your Food" campaign by adding a practical touch (but without losing the cuteness).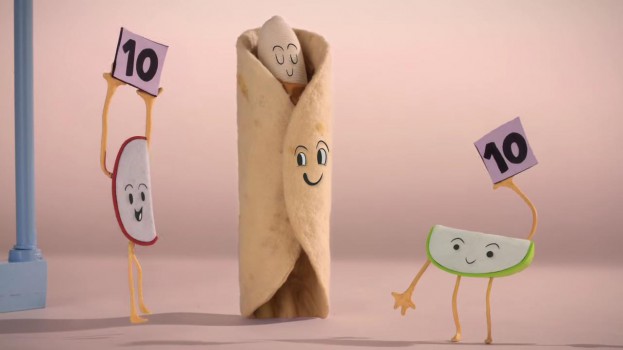 Stuck on figuring out what's for dinner? Dempster's wants to remind consumers of the different ways its tortillas can help, by refreshing a campaign from last summer with even more ideas.

Last year, Dempster's debuted the "Hug Your Food" platform for its line of tortillas, based around the versatility of the product and featuring the tortillas and different ingredients characterized as cute cartoons.

The campaign was seen as a huge success, as the spot earned over two million views, drove sales and had a "historically low" cost-per-view that was far less than the industry average, according to Brian Murray, group creative director at Cundari, which developed the campaign. The agency wanted to maintain the cuteness of the spots,  as it was seen as a big contributor to the campaign's success.

"We think people really loved the connection with the cute characters last year, and we didn't want to lose that, because, honestly, I don't think I've ever seen this many positive comments on a YouTube video," says Sean Ganann, group creative director at Cundari.

While the campaign is still targeting moms looking for ways to create inventive meal ideas, the videos now spotlight each individual idea, from breakfast burritos to chicken wraps, more directly by giving them each their own spot, instead of putting them all into one, as was done last summer. Cundari also challenged the animators at Bent Image Labs to do each spot in a different style, giving every recipe its own unique look and feel.

"The strategy for the first one was about inspiring people to think about the different ways to use tortillas," Ganann says. "It led us us to the idea of creating a multitude of ideas, each with their own flavour and style to mirror how you could use tortillas in different way."

Four spots are circulating as pre-roll now, with four more ready to go out later this year around special edition tortilla launches and another four debuting in the fall.

"The overall 'Hug Your Food' message has not changed," says Mike Ponter, senior marketing director for Dempster's. "But the new approach is allowing us to showcase many more recipes, and engage consumers throughout the year, as opposed to one big push per year."

Ponter also says the brand's consumer challenge (letting people know the different ways tortillas can be used outside of standards like a Mexican night) hasn't changed, and hopes coming at it with a more long-term strategy this year will establish Dempster's product as a go-to for meal inspiration.

Murray says the spots were created to work best as pre-roll ads, grabbing attention immediately with the characters, and then giving viewers the option to click through to the YouTube hub to get a recipe and engage with other content, turning the initial paid view into more earned media. After almost a month online, the spots have already passed 1.5 million views.

"The digital campaign allows us to target our consumers more directly, entertain through multiple videos and communicate more recipes and meal inspirations," Ponter adds.