Cause + Action: Kashi's green thumb creates (real) impact
The brand encourages consumers to "Plant it Forward" to bring the focus back on its "real food" message.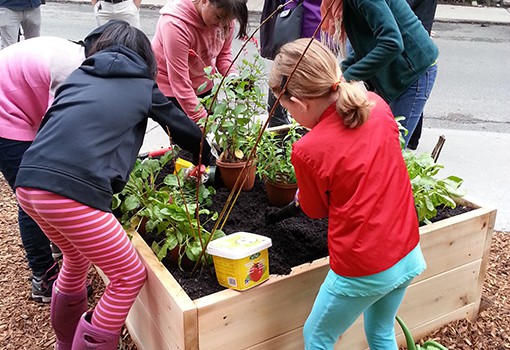 INSPIRATION
For many urban Canadians, access to "real food" can be difficult. It's not always convenient or cheap, but it is critical for a healthy lifestyle. After being purchased by Kellogg's, Kashi lost its focus on giving back to the community. The brand realized it needed to get back to real food and prove to consumers that it's serious about educating Canadians about the benefits of healthy eating.
STRATEGY
Kashi decided if it was going to become committed to progressive nutrition, it had to do something that would make a positive difference in Canadians' relationship with real food. So, with TraffikGroup on creative strategy, Strategic Objectives on PR, Starcom on media placement and VML on digital execution, Kashi launched the "Plant it Forward" movement in the spring of 2014.
EXECUTION
The initiative aimed to increase access to real food in Canadian communities. It launched with a video on YouTube, beginning the discussion on why real food matters and inviting people to help "Plant it Forward" by sharing the video or buying a box of Kashi.
For each video shared and every box purchased, Kashi donated to Evergreen (a non-profit organization that inspires action to green cities), resulting in a total of $60,000. In stores, Kashi cereal and bars came with a free packet of organic vegetable seeds, inviting consumers to "Plant it Forward."
In partnership with Evergreen, Kashi also helped build and support 18 urban gardens across Canada. It kicked off the partnership with a launch event at a Boys & Girls Club, turning a parking lot into a garden and educating members about the importance of real food.
Updates on the 18 urban gardens were shared on Kashi's Facebook page, along with expert gardening advice from Evergreen.
To continue momentum for the "Plant it Forward" initiative into the fall harvest season, the brand created another online video, focusing on how the younger generation is becoming increasingly detached from nutrition. In the video, kids were asked to identify prepared foods and common vegetables. The results were shocking, with the majority of kids having a difficult time identifying vegetables. The video started a conversation on YouTube and Facebook and further promoted the importance of real food.
RESULTS
The program supported 70 urban food-growing workshops across the GTA and Vancouver, providing 1,400 participants with access to real food education. Consumers purchased 150,000 specially marked packages of Kashi with free on-pack seeds. What's more, the two videos garnered more than one million views on YouTube.
JUDGES' COMMENTS
"Kashi's campaign was clearly connected to the brand's distinct positioning. It demonstrated that it's serious about 'real food' and its impact on Canadians. The extendability of this idea is powerful, with so many inspired to plant their own backyard gardens or help set up gardens for those who don't have access to green space. Really well done!"
– Paula Roberts, Halo Brand Leadership