Cundari crowdfunds for good
The agency has launched Kickstopper, a platform specifically geared to supporting grassroots charities.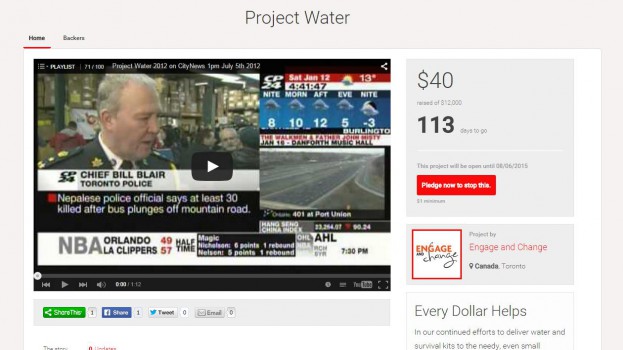 Cundari is trying to take the cause work it does to the next level with Kickstopper, a crowdfunding platform that aims to give smaller, grassroots charities a platform to educate the public and raise funds for their projects.

"A lot of agencies help charities and non-profits, and in most cases it's helping from an awareness standpoint," says Andrew Simon, CCO at Cundari. "We started to think of ways to also directly help with funding, because what they often need is money. This is a way to do both at once, because even if people don't donate, they can see the videos and information on a page, which communicates who is out there doing this work."

Kickstopper will be very similar to sites like Kickstarter or Indiegogo, with fundraising goals, time frames, project videos and donation levels. Instead of the perks people might be used to seeing from crowdfunding platforms, each donation level focuses on what the charity will accomplish with each size of donation. For example, at $10, Project Water can distribute five personal care packs to prevent dehydration and give clean water to the homeless during extreme heat. At $35, it can distribute two summer essentials kits, which also includes things like sunscreen and hats.

In addition to Project Water, charities and projects on the platform at launch include BottleWorks, KidSport, Operation Come Home and Homes of Joy, and applications are now open for any non-profit or charity that would like to be a part of the initiative. The "stop" in the name refers to the kinds of projects the platform will be supporting – ones the aim to stop societal inequalities (be it homelessness, hunger or a lack of access to clean water) and are in the most need of support and funding.

"There are many creative ideas out there, but we want to be laser-focused on stopping those things and giving, specifically, grassroots charities a voice," Simon says. "The bigger ones are doing a great job on their own. This is about helping the little guys out there. That's why one of our requirements is that the charity be grassroots, so we know the money donated goes directly to the project."

"Kickstarter and things like it are great, but they do fund a lot of frivolous projects," he adds. "At the same time, they're things that do generate money. If that can happen for a giant Lionel Richie head or a bunch of potato salad, I have to believe people can give to a better cause."

Kickstopper has been in the works for about six months, drawing on staff in every department to develop the website, reach out to charities and establish an online payment option through PayPal. Management of the site is being spread throughout the agency, which will continue to add to it based on feedback from charities and donors, and is already looking for ways to offer alternative payment options.

The platform is completely not-for-profit, and the agency will not collect any money from charities aside from a small administrative fee that is common on most crowdfunding sites. Simon says the benefit to the agency is similar to what it would get from other general pro-bono work.

"As an independent agency, we are a bit more free to put our money where our mouth is in terms of what we want to help and promote," he says. "This is what our brand is about. We've always been supportive of cause marketing, so this is just an extension of that."

Cundari's previous cause work includes campaigns for CIBC Run for the Cure, Hospital for Sick Children and Project Winter Survival (which is also a project on Kickstopper).