Steam Whistle brews a celebration
The beer brand highlights its 15th anniversary with a new series of mini-docs.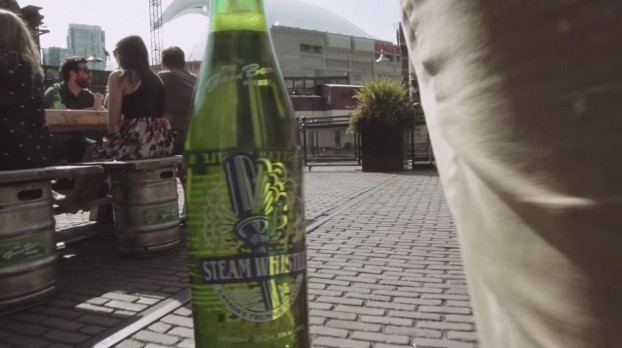 Today marks the 15th anniversary of the day Steam Whistle Brewing's retail store at its Roundhouse brewery opened. To mark the occasion, it has released a series of mini-documentaries going over its history, culture and inner workings.
The videos have been released weekly on YouTube and featured on the #15yearsofbeer microsite, leading up to a party at the brewery today from 11 a.m. to 6 p.m., featuring free tours, music, food and, of course, beer.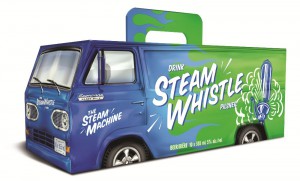 Steam Whistle has never worked with a creative agency, relying on its own internal marketing team, creative manager and graphic designer to develop its advertising. Aside from radio ads and some print and out-of-home that reflects the "retro" aesthetic of the brewery and the vehicles it uses to make deliveries, most of Steam Whistle's marketing comes in the form of package design, like the van-shaped can carrier it released last summer. A growing portion of its marketing spending now also goes to events and sponsorship, which range from arts and cultural events to promoting environmentally-friendly initiatives, to partnerships with larger organizations like the Juno Awards and Porter Airlines.

Sybil Taylor, communications director at Steam Whistle Brewing, says the brewery itself, located in a roundhouse in the shadow of the CN Tower, is the company's biggest marketing tool. Between its tours, events and retail space, the brewery sees roughly 120,000 visitors every year.

"People come in, hear all about our story, become converted and become our missionaries because they love what they've experienced there so much," she says. "With the local food movement, people now want to know everything about what they're consuming. What are the ingredients, what's the process, who are the people behind it and what's the moral fibre of the company? By being an open book with the doors open all the time, we fill that consumer hunger for education and they see what we're passionate about."

The company has grown from 16 employees at its inception to over 160 today. Greg Taylor, Steam Whistle's co-founder, says that even though the brewery has seen significant growth as the craft beer market has grown as well, the marketing challenge is less about competing on the same, larger scales of multi-national beer brands and more about maintaining excitement in general, something that can be difficult when your company only offers a single product.

"There was huge growth in import beers 15 years ago and craft brewing was plateauing, so it was easy to be different," he says. "Now we have to make sure we're still relevant as this movement in craft beer has taken off around us. We have to keep getting noticed and make sure people are still getting excited about what we're doing."

As it does at events, conferences and at in-retail tastings, the anniversary documentaries reflect the ideas of fun, honesty and openness that Steam Whistle tries to communicate.

"There is no option to come out with a brand extension and capitalize on what's going to be trendy next season," Greg Taylor says. "So we make sure we create the fun here to make it more genuine and holistic. It creates an emotional connection and an experience that gives you more depth in your understanding of the brand and the things we stand for, which are hopefully the same things a customer stands for."

Adds Taylor: "Every other craft brewery in Canada is crazy about variety and reinventing their products every season, but we've given up variety to focus on quality. In many ways, that has simplified life for us. Not only do we not have to reinvent ourselves every year, we can communicate a furious passion and expertise for the one thing we do really well that resonates with people and sets us apart."