CIBC's strategy to stand out
The financial co has refreshed its branding after hearing that consumers see all banks as alike.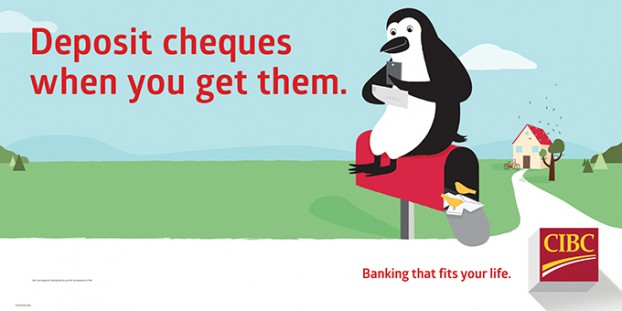 This story appears in the June 2015 issue of strategy.

CIBC has refreshed its look, mascot and language in an attempt to stand out in what consumers see as a homogenous banking landscape.

A new, more 3D logo, along with a fresh "Banking that fits your life" tagline will be seen in the bank's upcoming advertising and social media.

The refresh, led by creative agency Juniper Park, comes after two years of research, asking more than 15,000 Canadians (including current clients across business segments) what they look for in their bank. That research was part of CIBC's look at what banking will be like in the next 10 years, says Stephen Forbes, EVP of brand, corporate and client relationships.

The feedback suggested consumers couldn't necessarily differentiate among banks' marketing, Forbes says. "You're going to see the use of much clearer language with a bit of humour in it," he says of CIBC's new approach. Part of that will also include using more distinctive illustrations instead of photographs.

The bank is also expanding the use of its Percy the Penguin character. First seen with the launch of its Aventura rewards program roughly 18 months ago, the penguin received an incredibly positive response from consumers, and research showed the character had great "extendability," Forbes says.

A more realistic-looking version of Percy and his family are now being used in a series of 30-second TV commercials. The first ad, which launched mid-May, features Percy's wife introducing him to the e-deposit feature (where customers can deposit cheques by taking a picture with their phones). More commercials will be coming this summer, with Mediacom leading the buy.

CIBC will also be using a "real-life" Percy mascot at upcoming activations, as well as working with Fuse Marketing Group for social media content centred on asking Canadians how banking fits their life.

"What we will be building at CIBC is what we're calling a modern convenient bank," Forbes says, meaning one that is easy to do business with, flexible and personalized. That entails emphasizing offerings like e-deposit. The shift toward "Banking that fits your life" came as CIBC was seeing more transactions through mobile and demand for simpler banking across all demographics.

The TV spots with refreshed branding will be rolling out this summer. Forbes adds that aligning the brand refresh with timing of the 2015 Pan Am/Parapan Am Games in Toronto, for which CIBC is the lead partner, will allow it to have more weight and visibility.