Always wins Media Gold
#LikeAGirl also earns a Bronze, while Canada's Young Lions Media team takes home a Silver.
Always' "#LikeAGirl" continues to pick up Lions in Cannes with two more wins, this time in Media, ones that will be counted as Lions for Canada when the festival has wrapped.
Similar to what happened for the campaign's Grand Prix win in PR, the campaign, which was submitted by media agency Starcom MediaVest Chicago, was listed as a win for the U.S.
However, when the final tally is released in the Cannes Report, each country credited for a campaign will be given a Lion. So while Starcom gets recognition for its role in the media planning and buying for the blockbuster campaign with a Gold Lion in Use of Digital Content and Bronze in Fast Moving Consumer Goods, Canada also keeps up its streak of winning at least one Lion in every category in which it has been shortlisted so far.
During a press conference, Nick Emery, global CEO of Mindshare Worldwide and Media jury president, singled out a number of trends in the entered work, including the prevalence of work for causes and non-profits, the use of new tech, personalization and fooling consumers in some way.
Canada had the lone credit on one of the night's top prizes, though. The team of Megan Metzak, national account manager at Olive Media, and Celia Gibb, senior communications strategist at M2, was given the Silver Young Lion in Media at today's ceremony. Tasked with a brief for Malaria No More UK to target major businesses and high net-worth individuals, the goal was to generate 10 million pounds and 20 partnerships to support its efforts to eradicate the disease by 2040. Metzak and Gibb created a "DASH stock" for the London Stock Exchange, sold exclusively to key partners who would bring their resources and network to push an IPO that would then raise the money.
This is Canada's first Young Lion win since a pair of Silvers in 2013.
The Grand Prix in Media went to Vodafone's "Between Us" campaign, aiming to combat domestic violence in Turkey, a campaign Emery said brought together many of the different trends it was seeing, and fulfilling the jury's three main criteria: the idea got recognition through work and not politics, it was rooted in media and celebrates the craft and has strong, measurable results.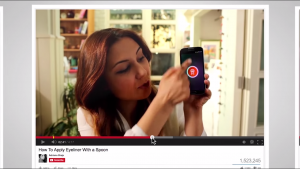 Mobile service provider Vodafone and agencies Mediashare Istanbul and Y&R Team Red Istanbul created a special "Red Light" app that appeared to be nothing more than a flashlight, but when the phone was shaken, signalled a woman's friends and loved ones to let them know she was being abused. Because the app needed to remain a women-only secret to be effective, it was advertised in places only women would see, like inside products like bras and waxing strips, or as product placement located deep within online makeup tutorials. Ten months later, when it was expected men would find out about the app, the campaign adapted, with an update turning Red Light into a mirror app, online videos promoting the app attempting to distract men with other banner ads and text hidden in cosmetic discount messages that only appeared when copied and pasted somewhere else.

"It took a worthy charitable angle, technology, results, personalization, then also adapted and changed after launch," Emery said. "It wasn't just a cause or tech, it had results and success and strong strategy behind it."

While Canada might have only pulled in three shortlist mentions (not including #LikeAGirl), Media juror Penny Stevens, president of Media Experts, told strategy that Canada should still be proud of its results, although there are ways to improve the showing for the future.

"We saw over 3,100 entries and a shortlist of around 290, and Canada had three of those," she says. "Where we could do a better job is not on an agency by agency basis, but as a country, and really celebrate the art and science of our media business. The number of entries Canada has is not as great as other countries, and perhaps we should get better at that. I also think we could write and present better cases, because our work is good and equal to what I saw, so we could do a better job of describing how we do it and be more artful in the presentation of our work."