A wake-up call for Cannes
During the first Lions Innovation festival, DDB global CCO Amir Kassaei says confusing tech with innovation is leading creatives to forget their purpose.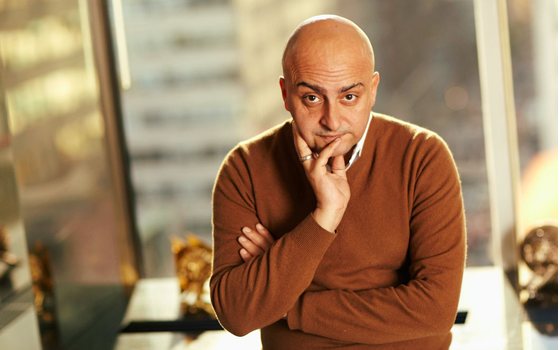 Innovation is one of the most ubiquitous phrases at the Cannes Lions Festival, to the point that a new "festival-within-a-festival" was created and devoted to it.
But many talks, panel debates and juror speeches have been touching on the subject in one way or another, and the beach and Palais are full of both established tech companies and fledgling startups that wouldn't have been anywhere near the festival 10 years ago.
Amir Kassaei is the global chief creative officer of DDB Worldwide, and while his speech on Friday afternoon is part of Lions Innovation, he sees the obsession with technology that pervades Cannes as a major distraction from the advertising industry's main purpose.
Strategy spoke with Kassaei in Cannes about why innovation has nothing to do with technology, why technology has nothing to do with the goal of advertising and why the work that has been awarded Grand Prix so far has failed to fulfill it.
Can you give us an idea of what your talk will cover?
I don't have the exact structure figured out yet, but the idea is very simple. If you look at the festival over the last five years, everyone talks about the latest trends, the latest technology and everything that will change, but not a single person is talking about what will never change. To me, technology doesn't have anything to do with innovation. Innovation is having a different idea.
I believe we as advertisers are losing the complete connection to the real world. We are living in a bubble as an industry and we believe in the bullshit we are talking about instead of refocusing on what is the main purpose of this industry. To me, and it will always be the same, that is creating relevance for products and services to connect people with the brand. And we are losing it completely because we are so busy catching up with all the stuff that is not related to our industry. We are losing our base.
Does anything need to change to address this?
It's not about changing anything, it's about remembering and refocusing on what the purpose of the job is. Forget about all this other stuff – what is your purpose, what is your job definition and what is mine? It's solving marketing problems in the most innovative way, letting people know there are products and services out there that can make their lives better and easier, and doing so in a way that people are interested in it and can relate to it.
That is the job. We should stop talking about what will change and start talking about what will never change and what the purpose of this industry is, which at its core doesn't have any relation to technology.
So what role does technology play in advertising?
A lot of people, because they are trying to catch up with what's going on, are just completely confused. They think they have to adapt themselves and change themselves and be on the same level as the technology companies to be state of the art or relevant, which I think is completely false.
We are not a tech-driven industry. Technology is an amazing thing, but technology itself is not the purpose of what we do.
Does the emphasis placed on tech and new players in advertising at Cannes contribute to that?
When I first came 18 years ago, Cannes was a small, creative-minded conference. But if you look at it in 2015, it's less about the actual purpose of the industry and more about business, technology and all the other stuff. It's a decision made by the organizers of the festivals, so I can't judge, but I think it's wrong because it was always meant to be the festival of creativity. I am not seeing and feeling that at the moment. I don't want to be too negative, though, and maybe that is just what Cannes is about now in 2015.
Have you seen any Lions-winning work that you think is particularly good?
No, and that's exactly my problem. Take the Grand Prix and Golds in all the categories away from the Palais to the old town of Cannes, pick up 10 people and ask them how relevant it is in their life. You'll have the answer there.
It's like a lot of car companies. They are building amazing prototypes but they are not able to turn it into a mass-market car that drives down the street. There's been no true innovation in the last 18 years, and I'm talking about a disruptive, game-changing idea of what advertising or marketing should be, not a new technology we can use.
Is this a philosophy you've been trying to spread through DDB?
What we are teaching everybody at DDB is what is the job actually about. It's not about being the most awarded agency, because we don't give a shit about that. That's not to say awards aren't important. What I'm saying is winning them isn't related to the core purpose of the job. That is understanding the issues and challenges of the business of your client and using all your expertise and talent and technology as tools to come up with the most innovative solution for it. Make it relevant to the real lives of people, add value to the business of your clients – that is the industry getting you the recognition in Cannes. But not the other way around.
A lot of jury presidents have been talking about the emphasis they are placing on results and performance.
But what they mean when they talk about results is the wrong logic, too. It doesn't mean anything if a YouTube video has two million views and if that is what you are using to justify that an idea is game-changing, it's bullshit. It's not about awareness, it's about if it has relevance to the real lives of people and proving it. If you can't, forget about it. I'm not saying it's a bad thing to have two million views on a video, but awareness is not the purpose of advertising. I can strip myself naked and poop on the floor here, and everybody will be aware of it. That's easy. We are not measuring concepts and ideas in the right way because we are looking at them in terms of awareness and not relevance.
So what is the right way to measure relevance?
Look at how people are reacting or interacting with companies that are relevant. The most valuable company of the world is the most relevant one, because the advertising is most outstanding. The idea of advertising is kind of boring, actually, but there are those who have dedicated themselves to produce the best product they can to make people's lives easier and better and they are paying a premium price every year for it. That's what I'm talking about. Anything else is bullshit.