Check it out: Keeping pets in mind on Moving Day
Rosie Animal Adoption reminds Quebecers that July isn't an excuse to leave animals on the street.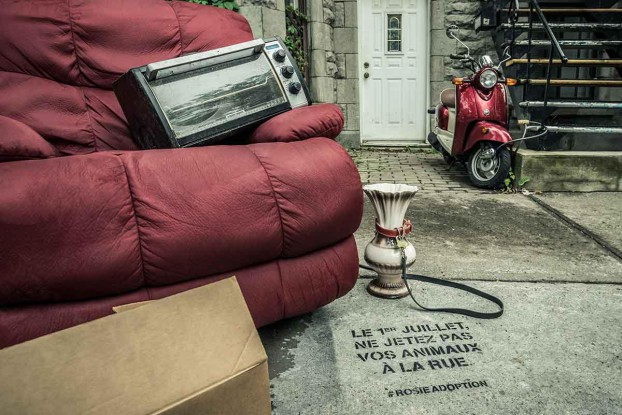 Rosie Animal Adoption and Rethink used Moving Day in Quebec this year to remind people not to discard animals as they might an old chair.

Every year around July 1 (the sanctioned day to move in the province), hundreds of pets are abandoned in Quebec, according to the organization. In Montreal alone, about 1,600 pets are abandoned each July.

To send the message home, Rethink and Rosie placed leashes on real discarded objects on the streets on Montreal, along with a spray-painted message in French reminding people not to throw away animals on the street. The resulting photographs, taken by Shoot Studio's Martin Girard, were used online yesterday on social media and to gain earned media about Rosie Animal Adoption.

Last year, the organization worked with DentsuBos in Montreal on "Tinderdoption," which put profiles of pets in need of a new home on the popular dating app and led to the shop taking home several prizes at this year's Créa Awards.