Aperol revs up the whimsy
What do a Vespa, a grandfather clock and an orange fedora have in common? We're not entirely sure either, but they're all supporting pieces in the brand's latest program.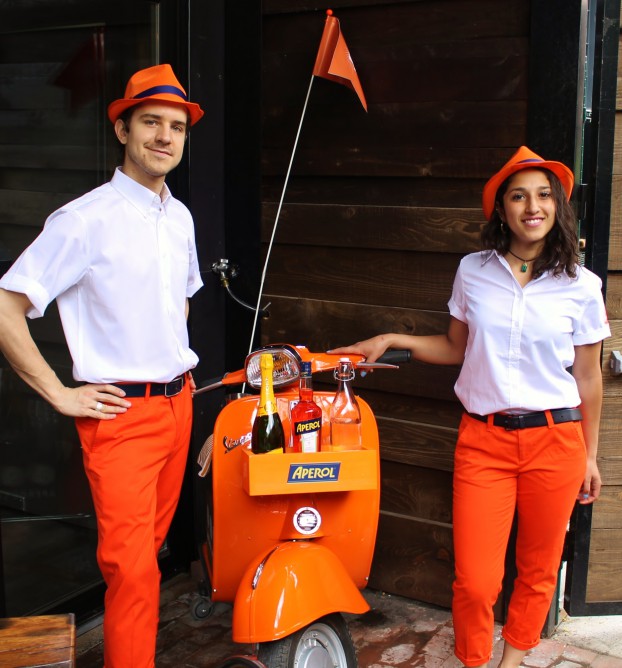 Haven't had the chance to book your Roman holiday this summer? Well, save your airfare because Aperol is bringing Italy Canada, as it ramps up its efforts in the market.
The Campari spirit brand is promoting its Aperol Spritz cocktail with an interactive sampling program at licensed establishments featuring roving, refurbished Vespas to mimic the look of a sampling bar cart and brand reps clad in orange (Aperol's colour) fedoras and outfits showing patrons the cocktail's simple, three-step recipe. The "Summer of Spritz" sampling tour, making stops in Montreal, Toronto and Vancouver, also features stationary grandfather clocks that dispense tickets that consumers can exchange for drinks and summer-themes prizes.
After kicking off in May, the program has made stops in Montreal and Toronto, and is now making its way to B.C., where it will run until Aug. 9, to be followed by a crowd-sourced party (consumers can vote weekly for party elements at SummerofSpritz.com) at the end of month in Toronto.
Fun and unique sampling programs has been a successful strategy for the brand globally, says Priya Shah, brand manager, Italian portfolio and brand experience, Campari Canada, while last year, a more traditional sampling campaign in the Canadian market helped Aperol gain traction. This year, the aim was to build on this and incorporate some classic Italian elements (and bring the brand's popularity in Europe across the pond), while pushing the ease of recreating an Aperol Spritz at home.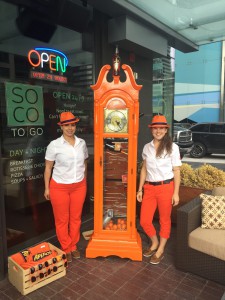 Aperol is targeting a fairly broad range of consumers, aged 19 to 35, as well as groups of friends, who might be socializing on a patio or out for brunch. In light of this, the brand needed to offer a creative promotion to encourage these folks to partake because it's essentially interrupting their time out, Shah adds.

Aperol saw a bit of a slow start when it was first introduced to the Canadian market (Shah believes it was in 2008), seeing pick up from a small number of establishments. But a summer brand ambassador program two years ago helped drive growth, she says, so now was considered the right time to ramp up activity and connect with consumers in a new way.

Moreover, Shah says the bitters category of alcohol and spirit-forward drinks are becoming increasingly popular globally, with Canadians following Europeans' propensity for a more bitter palette.

Brand experience for the program was handled by Diamond Integrated Marketing, with YBVocal on media relations.