Eska puts Toronto on the hunt
The water brand simplifies its experiential contest for its second year.
To try to break through the noise of social media contests, Eska Water has taken a different approach, targeting millennials with a contest that requires simple participation.
This year's "#EskaQuest" contest uses its website and social media to give out the general location of a prize each Wednesday and Saturday in Toronto. Social users will have to figure out the location and find the right "host" – different influencers – to claim their prizes, which include tickets to events like Osheaga music festival, Bluesfest, and Toronto Argonauts home games.
The brand has teamed up with comedian and TV personality Daryn Jones, MTV Live alumni Paul Lemieux and Sheena Snively, Toronto lifestyle blogger Casie Stewart, Baby and Life blogger Yashy Murphy, and Indie 88 radio host Brent Albrecht for the contest.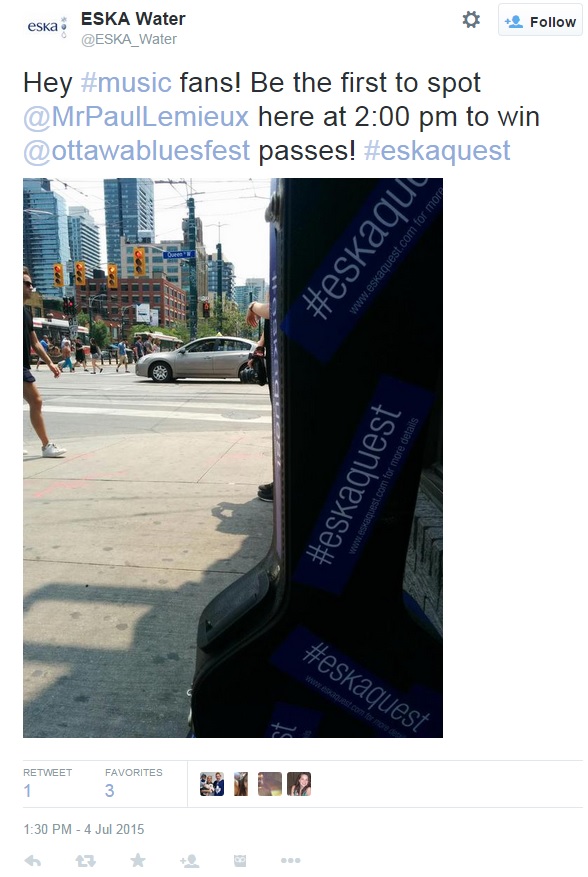 This is the second year that Eska has launched an #EskaQuest scavenger hunt, but this year it's more simplified. Last summer, the game asked consumers to find 10 different tiles that could be scanned with their smartphones to reveal challenges using augmented reality for a chance to win an iPad.

"It was more involved last year," says Kristin O'Meara, brand manager at Eska Water. "We wanted to make it quicker for people and easier for them to win a prize."

This year's prizes are also more experiential, rather than product-oriented, both to target young people and their families (through passes to places like the Toronto Zoo and Ripley's Aquarium), she says. "We wanted to continue '#EskaQuest' by giving them something to look forward to in that experience instead of ending it there with an iPad and then they forget about it."

An influencer strategy this big is also new for Eska, which is trying to boost its brand awareness in Ontario. While well-known in the Quebec market, the water has been available in Ontario for only about four years.

"#EskaQuest" opened June 22 and will run to the end of this month. Eska worked with Toronto's Instigator Communications on the contest.