TD's thankful #tbt
The bank taps into the love for nostalgia with its latest "#TDThanksYou" campaign.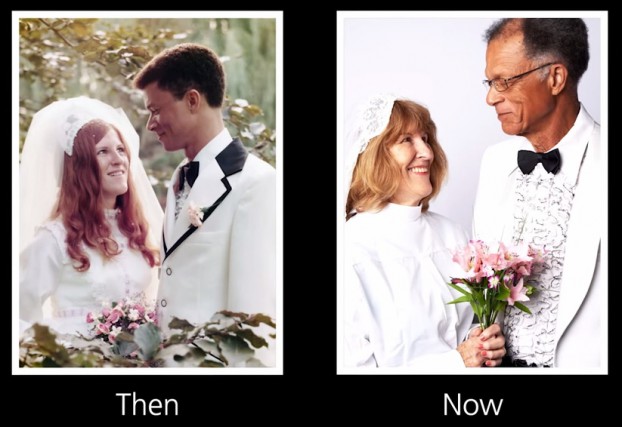 TD has brought back its #TDThanksYou platform for a look back at its history – and its relationships with its customers across North America.

The campaign, led by Diamond Integrated Marketing and running for the next several weeks, launched today with a compilation video of a stunt the bank pulled in several branches in Canada and the U.S., surprising long-time customers with their own personal retrospectives.

The video, running online, shows several customers treated to their own personal photo galleries and messages from their families – a way to thank them for being loyal customers through their many life stages. The video also features re-creations of old photos, retaken in the same poses.

"What we've noticed has become quite popular and of interest to people is nostalgia," says Dominic Mercuri, EVP and CMO at TD Bank Group, noting the popularity of the "#tbt" ("Throwback Thursday") and #FlashbackFriday movements on Instagram, Twitter and Facebook. "We thought it was a great idea because we do have a long history serving Canadians and American customers," he adds (this year marks TD's 160th anniversary).

Along with sharing those stories on social media, bank employees are also writing thank-you notes to share, in a way to reach customers who aren't necessarily in branches as often. Online, the campaign includes a "#TDThanksYou" microsite, created by Mirum, and a Flickr gallery of photos from the 1890s to today, showcasing various bank locations and ads.

In the coming weeks, TD will also release a new TV spot, created by Leo Burnett Toronto, also around "Then and Now." Starcom Mediavest and Media Experts are on the media buy for the campaign.

TD will also bring "Throwback Thursday" in branch, with individual locations deciding how to celebrate the day for the coming weeks – for example, by decorating with a 1960s theme. Employees will also be wearing lanyards with their own personal "then" pictures.

TD has been doing customer appreciation campaigns for several years, and last year branded it with "#TDThanksYou," creating a gift-giving ATM machine.

Correction: An earlier version of this article stated that Nurun created the #TDThanksYou microsite. Mirum was responsible for the site design.