Samsung launches a pop-up
The downtown Toronto showroom, which ties into TIFF, is part of a campaign to support the brand's latest appliances.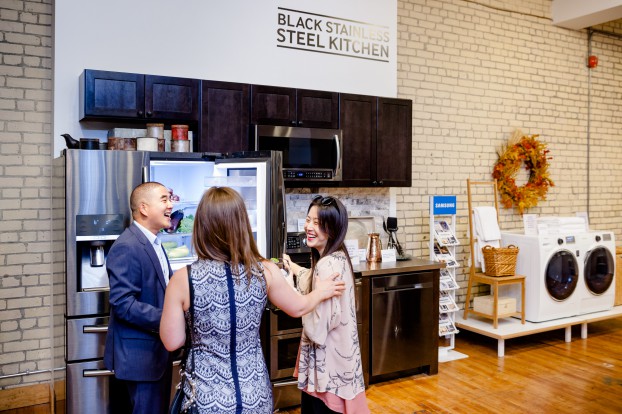 Black might just be the new, well, black, when it comes to home appliances.
It's a design trend Samsung is leveraging with its latest products, which are on display in a pop-up showroom in Toronto. It's part of a fully-integrated campaign the brand has launched to support the new pieces, including TV, digital and social.
The Samsung Home Innovation Showroom, which opened this week, features three kitchen vignettes to show off the 2015 offerings from the brand (which led the home appliance category according to data as of April 2015) – The Black Stainless Steel Kitchen, The Innovation Kitchen and The Chef Collection Kitchen.
In a bid to build off the success of the brand's showroom last year, the aim is to offer consumers a hands-on experience with the products, says Mark Childs, CMO, Samsung Canada. And it fits into the brand's strategy to bring consumers closer to their passion via its products – with the showroom touting offerings that can benefit them in the kitchen.
"Over the last year and a half to two years, we've been trying our best to bring the brand to life beyond just the features and functions of an appliance or a mobile device or a TV, and really help Canadians see the connection of those features and functions to their real life – see the real true benefit of innovation technology," he says.
The showroom pop-up, which runs until Sept. 25, also ties into the brand's sponsorship of the Toronto International Film Festival (TIFF) and will host festival-related activations, such as a roundtable with director Jason Reitman and emerging Canadian directors who will use the latest mobile tech for their short films, in addition to events like cooking demos and activations with retail partners and media and social influencers.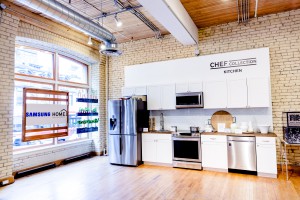 The corner of King Street and Spadina Avenue downtown was selected as the showroom's temporary home, given the expected increase in traffic in the area (which is already busy) due to TIFF, Childs says, as well as the neighbourhood's design orientation.

He attributes part of the success of last year's showroom to the brand's engagement not just with consumers but the design community and lifestyle media. This year, HGTV host Genvieve Gorder was enlisted to co-host the showroom's launch event and speak about upcoming trends in design and home – with its new black stainless steel collection fitting into that from a design perspective, he adds.

And design is something that's important to the brand's audience of "young-minded Canadians," which doesn't reflect their age, but rather the characteristics of being earlier tech adopters, valuing design and style, and possessing a desire to live life to its fullest.

Meanwhile, the partnership with TIFF is also a bid to reach this demo with its Galaxy Note 5 and the Galaxy S6 Edge+, as the brand is slated to run activations to promote its devices and screens. In addition to collaborating with directors, an interactive display in David Pecault Square will let users capture TIFF moments with the devices to create shareable videos, while an interactive wall display in the TIFF Bell Lightbox atrium will use the phones' live broadcast feature to create a live social feed, and also pull social content and merge it with custom content.

Cheil handled creative for the campaign, with Mosaic on experiential, Starcom on media and North Strategic for PR.

With files from Media in Canada/Sonya Fatah