Harry Rosen courts a younger crowd
The retailer revamps its First Canadian Place store to match the changing face of the men on Bay Street.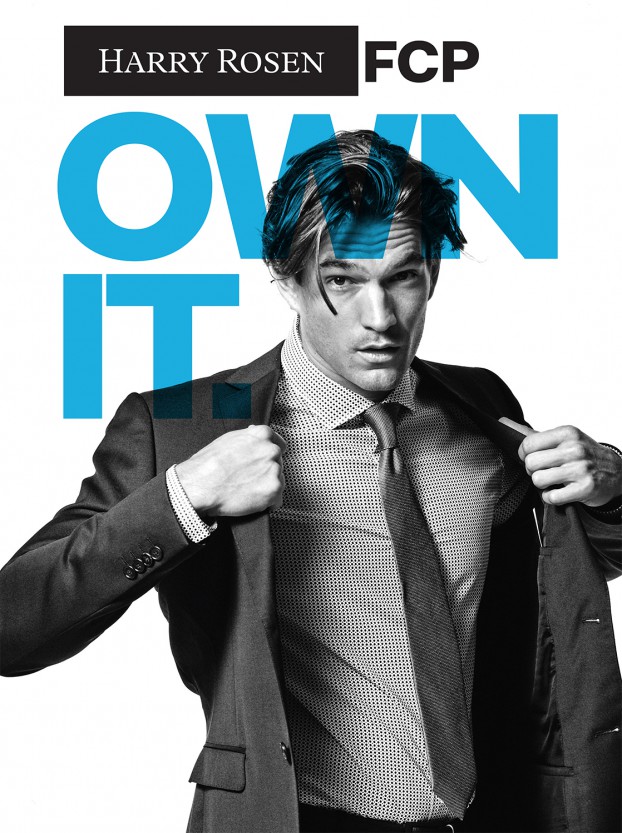 Harry Rosen is looking to maintain its long history of dressing Toronto's Bay Street crowd with a new creative platform and branding exclusive to its location at First Canadian Place in an effort to attract more of the area's younger, bolder businessmen.
The location, which was redesigned a few years ago, has had its decor updated with new window displays incorporating the new "Harry Rosen FCP" branding exclusive to that location. To capitalize on the growing desire among millennials to personalize everything, the retailer has introduced a "design your own suit" station from Amsterdam's Munro Tailoring. The merchandise selection has also been broadened with brands more appealing to a younger consumer, including Etro, Z Zegna, Versace, Dolce & Gabbana.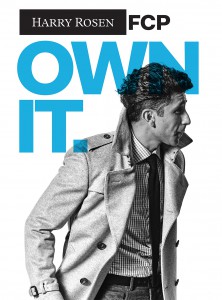 The new look, feel and branding of the First Canadian Place store is being promoted with a campaign targeted in and around Bay Street. Posters featuring younger models in black-and-white photos with the words "Own It" in bold typography will be placed in St. Andrew, Osgoode and King subway stations, transit shelters in the downtown core and digital screens in the area's elevators, food courts and office buildings.

Working with photographer Matt Barnes, creative on the campaign was handled freelance by the team of Bob Goulart and Dave Hamilton, with Cairns O'Neil on the media buy.

"Today, the idea of winning in business is based around this concept of owning it," Goulart says of the campaign's tagline. "A man walks into the room and owns the meeting. He goes for drinks and he owns that night. If you're going to do that, you also need to own your look. That's always been what Harry does best, but for this campaign it was important to us to speak in a more confident tone and own that ourselves, which is a bit different for the brand."

The Bay Street crowd has always been a large part of the store's identity, according to Larry Rosen, chairman and CEO of Harry Rosen, even as it has opened larger stores across Canada, including a new flagship store at Sherway Gardens in Toronto. But what it means to be a man working on Bay Street has changed over Harry Rosen's 60-year history.

"The new Bay Street guy is younger and bolder, so we need to be bolder and more modern to speak to them if we want to keep up our connection to that crowd," Rosen says. "That means adding the modern brands they want, doing things like the suit station and having a younger staff in the store to make everything about it younger. It's almost like making Bay Street a little more like Queen Street, in some ways."

"These ads are not selling the clothes on that model's back, it's selling what confidence looks like, which is important for these guys that are finding their way in a world that's very competitive," Goulart says.

As of right now, there are no plans to expand this platform and branding to encompass Harry Rosen's other locations.

"Across our stores, modern men are still finding us," Rosen says, putting the average age of a Harry Rosen customer across its network in the mid-to-late 30s. "But at Bay Street, we need to shed 'your dad's suit store' image. That's why, at FCP, we're turning our focus to be almost exclusively on a younger customer, because the older ones already know who we are and are coming to us."