Concordia unites the jocks and the artists
A new campaign and rebranding by Cossette enlists a local graffiti crew and taps into history to drive school spirit.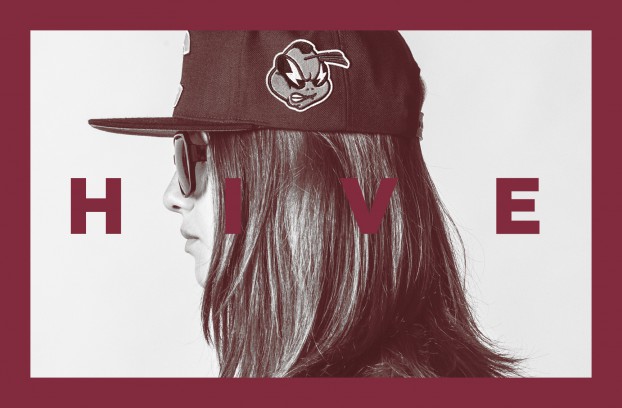 Concordia University is speaking to what its students care about with new branding and a five-part creative platform that bring together the emotions and values of being an athlete at the school with the artistic elements they are interested in.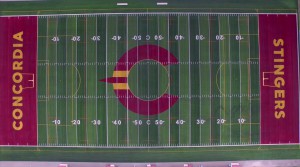 Sébastien Boulanger, creative lead on the project at Cossette, says the school was looking to drive excitement and fan support for its sports teams, the Stingers. That has been a challenge for Concordia, which has traditionally been known for its creative and liberal arts students, and has been seeing lower-than-normal attendance at games and waning pride from the athletes themselves.
The project came with a new branding, logo and uniforms for the Stingers, handled by local street artists 123Klan, who have a sizeable online following.
"They have a lot of young, artistically minded students, and it can be tough to pull artists to sports, so we thought putting some iconic people from the area into the project would be another source for them to get some pride," Boulanger says, adding that focusing, in part, on the artistic elements of the new team identity was a way to connect with students. "Yes there's a new logo and a bee mascot, but we wanted to build the fundamentals of the brand, like we would for any other client, which is why we also did the manifesto."
That manifesto arrived in the form of a full platform dubbed "The Stingers United Project." Through the fall season, the school's "manifesto" will be released as five chapters, each one coming with its own photographs and online videos. Some of the chapters – like "passion" – touch on what might be expected from a sports team, but others address some hurdles to engaging with students. "Roots" will look at the school's history in Montreal's sports community, which many current students are unaware of, and "the Road" takes the long distance between Concordia's main campus to its stadiums and arenas and equates it with the path that some athletes travel to get to the school and live their dream of playing varsity sports.
"The videos bring an emotional connection that means something for everyone, whether they're a fan or athlete or coach," Boulanger says. "One thing we wanted to make sure of is when a new athlete joins the Stingers, they know exactly what values come with that. It's another way of recruiting, by putting that emotion into it."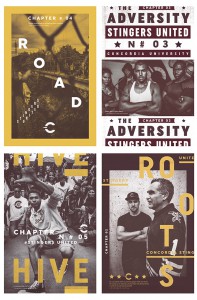 Posters and photos, which combine a retro black-and-white look with modern design, typography and team colours, will be displayed on Concordia's campus, in stadiums and arenas, as well as postings in downtown Montreal. Throughout the project, Boulanger worked with copywriter Andrew Morgan at Cossette and photographer John Londono, both Concordia alumni, and received extra creative support on design, photography and music from current students at the school. A behind-the-scenes look at the process of creating the new branding and creative has been displayed as an art exhibit around Concordia Stadium.
"Looking for ways to collaborate with students was always our first priority," Boulanger says. "If it starts from within, pride will emerge more easily, so the exhibit is about who's behind the logo and the story behind the brand that maybe kids will respond to because they're connected to some of the reasons they came to Concordia in the first place."