Saks Fifth Avenue's Toronto love affair
The retailer, set to open new locations in 2016, generates buzz with a romance and celebrity-fuelled social video.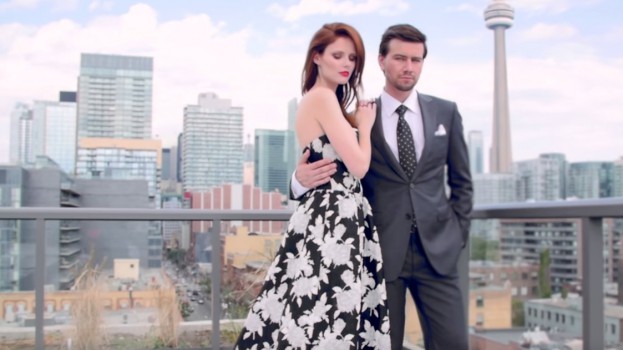 Saks Fifth Avenue is shedding light on sophisticated jet-setting with a new social media campaign.

The campaign is centred on a two-minute video called "I Left My ♥ in Toronto," starring real-life, long-distance couple Alyssa Campanella, a former Miss USA and editor of "The A List" blog, and Torrance Coombs, a Canadian actor best known for his roles on Reign and The Tudors.

Beginning at Saks Fifth Avenue in New York, she packs for a romantic weekend, travels to Toronto and has a date night across the city with Coombs. Alas, she does have to return to the Big Apple in the end, but at least she was fashionable the whole way through.

The romance of the "#LDR" (long distance relationship) was central to the new video, Qianna Smith, director of social media at Saks said in an email to strategy. "Capturing this idea of an intercontinental relationship between Saks New York and the city of Toronto inspired our short-film. We wanted to spotlight a real-life couple that could bring this concept to life, and Alyssa and Torrance were the perfect choice. Their love story is both modern and social, as they first met on Twitter five years ago."

The video, created internally by Saks, ends with a "coming soon" message about the brand's upcoming Spring 2016 store openings at the Toronto Eaton Centre downtown and at Sherway Gardens in Etobicoke.

"We're always looking for new ways to inspire and drive conversation about the Saks brand through custom content," Smith also said. "The goal of this campaign was to create an authentic narrative that embodies Saks' love affair with Toronto while reaffirming our position as a thought leader on what defines a luxury, jet-set lifestyle."

"We're bringing our New York experience to Toronto, and at Saks the experience is everything," added Stéphane Ledoux, Toronto regional vice president for Saks Fifth Avenue.