Camp Pacific boosts creative and digital leadership
Josh Fehr joins as ECD, while the shop formalizes its UX and digital heads' roles.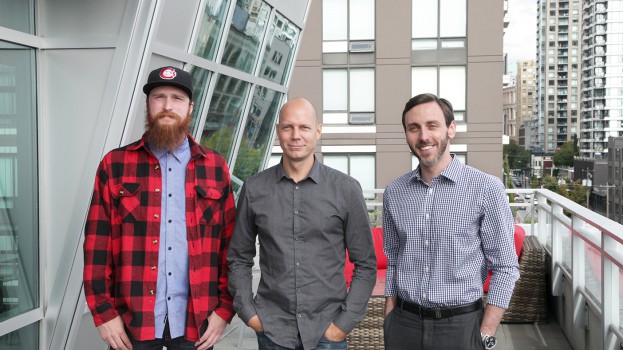 Left to right: Kyle Brownlow, Josh Fehr and Neal Davies.

Vancouver agency Camp Pacific has added a new leader to its creative department, hiring Josh Fehr as its executive creative director.

Fehr has been a creative director at Tribal Worldwide Vancouver for the past seven years, and has also had stints at Blast Radius and Goody Silverstein and Partners in San Francisco. While at Tribal, he worked for clients including McDonald's and Netflix.

Fehr will lead Camp Pacific's creative department along with creative directors Mia Thomsett and Addie Gillespie.

"We have a growing creative department and need additional overall creative firepower and leadership," says Derek Shorkey, SVP and managing director of Camp Pacific, adding that the agency has also seen growing work from current clients.

In June, the agency also hired Kyle Brownlow to be its head of UX. Brownlow is rejoining the Vision7 family, having previously been a designer and UX specialist at Fjord West, Cossette Vancouver's former digital division, and later at Dare Vancouver. Following that, he worked at healthcare gaming company Ayogo and digital shop Pound & Grain before going freelance, including projects at Camp Pacific.

"His role is slightly different because there's a user experience – not just in digital – but with a billboard or print ad," Shorkey says. "He'll be working on digital but thinking about how a user interacts across all creative platforms."

The agency has also named Neal Davies as its head of digital. Davies was hired by Dare Vancouver from the London office of digital agency Essence in April as digital production lead. His new title looks to reinforce the role of "hard" digital elements like data and anayltics in Camp Pacific's offering, while ensuring its creatives are considering all digital tools and solutions in their work.

"Having both Kyle and Neal in these roles is a formalization and declarative statement around our intent with the role of digital and UX in our creative offering," Shorkey says.

Camp Pacific was officially launched this summer, following the lead of Camp Jefferson in April.