Brands of the Year: Smoke's goes from small fry to gravy train conductor
The brand is no couch potato, with its sights set on a global empire of restaurants.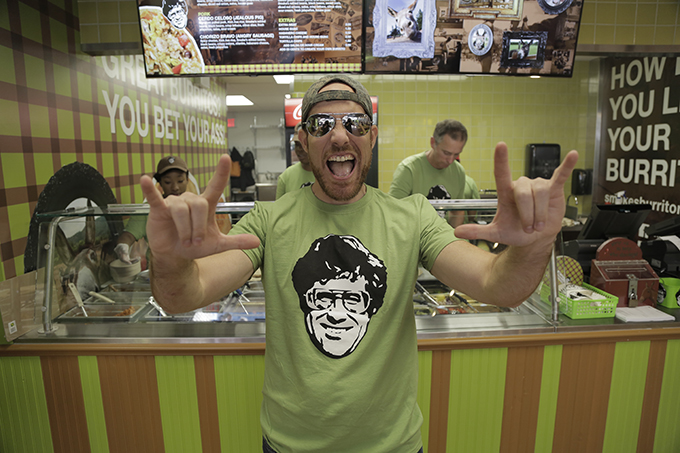 It's that time again. We're rolling out our 2015 Brands of the Year, so make sure to check back during this week as we take a look at the brands that had a big impact on Canada this year. And be sure to check out our earlier looks at Desjardins and Epic Meal Time.
This story appears in the October 2015 issue of strategy.

"In a way I'm almost like the Messiah, I'm like the son of God, some people say. I wouldn't say that, but some people have. I'm just sayin,' alright?" laughs Ryan Smolkin from behind his mirrored aviators.
The founder and CEO of Smoke's Poutinerie is telling the "tale" of how the company's elusive fictional namesake (whose face in sticker format dons backpacks, laptops and even the cubicle of strategy's editor) came to him late one night with a vision for the concept.
Since then, he's become the essence of a brand that has taken a classic Canadian dish to new heights, with its sights set on "global domination," arguably spurring copycats from QSR giants along the way. And whether you subscribe to Smoke's eccentric origin story of sorts, even the most atheist of marketers would be hard-pressed not to recognize it's this kind of quirky storytelling and focus on branding that has laid the framework to support an aggressive expansion strategy.
Perhaps it's no coincidence that Smolkin recounts this tale from the company's first Burritorie location in downtown Toronto on Sept. 14, its opening day. A line spills out along Adelaide Street, as eaters wait to try a specially priced $1 burrito, with proceeds going to The Donkey Sanctuary of Canada. (The sanctuary is indeed real, but the company relates it to a faux adventure of Smoke's – when he was rescued by Mexican donkey herders after washing up on a beach and given burritos as medicine.)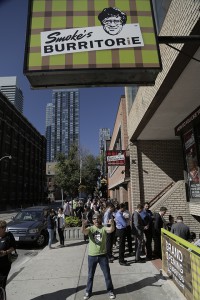 The rollout of Smoke's Burritorie and Weinerie locations are the next chapter in the evolution of the brand, which has grown from its first Poutinerie in 2009 to more than 100, including three in the U.S. within the past year and more to come, a push into non-traditional platforms (30 new restaurants are slated to open on campuses and stadiums by 2015′s end), and ardent plans to open 1,300 new restaurants across the globe by 2020.
The private company doesn't share financials, but it believes its growth plans are doable based on targets set by year and area.
The Burritorie and Weinerie extensions have been part of Smolkin's plan since day one, and represent a calculated decision to diversify into multiple food categories under one brand, rather than adding new products to the Poutinerie's menu. Such a move would have deterred from the focus that's brought the brand success, he says.
"That's the biggest thing that I've been hammering internally and externally – it's not product extension, it's brand extension," he says. "Anybody can do product extension. We're doing brand extension, which is a lot tougher and it's a lot more risk."
It's the strength of the Smoke's Poutinerie brand that is supporting the Weinerie and Burritorie expansion. Smolkin says there has been immediate interest in the new Weinerie and Burritorie franchises because of the Poutineries' success – a contrast to building out the latter franchises, which were "the hard sell for years and years."
To support the company's growth strategy, Smoke's brought on PR agency partner High View Communications, Reshift Media on social and All Points PR in the U.S. It's also built out its marketing team – which consisted of just Smolkin until about two years ago. Now five strong, and with a former McDonald's marketer at the helm, bolstering its events and developing new ones are among its priorities.
Paula Stephenson came aboard in May from the QSR heavyweight, where she says she "learned from the best." But working on a brand with a strong sense of identity and direction is "a marketer's dream," she says. Smoke's "sets course, and it just goes, it doesn't deviate."
For Stephenson, building up a solid team was an early task, which included hiring senior marketing manager Toni Stratis and promoting a digital supervisor. Digital will be a focus, she says, while another priority is to create internal systems that enable franchisees to easily execute programs.
But Smolkin doesn't want his company to turn into a huge corporate chain, and he fosters franchisees' independence (as long as they conform to brand standards). He says they can put their own twist on programs, and supports letting them try new things.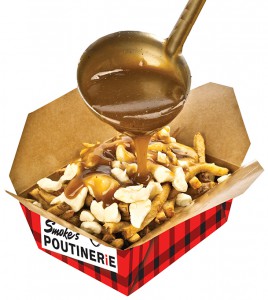 "I'm all about brand and brand integrity, and I'll fight tooth and nail if somebody messes up my brand," he says. "But let the interpretation of that brand evolve."
While Smoke and the allure of this infamous figure are central to the brand identity, Smolkin lauds the notion of how the brand goes beyond the food and service experience and is an entertainment company.
As such, events have been a core marketing component, namely the World Poutine Eating Championship, which has evolved from its modest start in 2009. It began as a single table and banner, while communications claimed the world's best eaters would attend, to make it seem more grandiose than it was. But that perception has turned into reality, Smolkin recounts, with last year's event at Toronto's Yonge-Dundas Square netting 15,000 attendees, complete with a Kiss cover band, dunk tank, potato launcher and even a DeLorean.
And this past summer, the brand completed its second cross-country tour, featuring free food, swag and prizes, and entertainment from competitive eating champ Tim "Gravy" Brown. With a title aptly befitting the brand, the Smoke's Poutinerie World Famous Great Canadian Cross Country Plaid Gravy Train Fries Curd & Gravy Weird Wild and Wacky Poutine Eating Tour stopped in 21 cities, distributed 12,000 free poutines and netted more than 100 million media impressions. A web series on YouTube followed the tour.
Social has also been a key part of the strategy (the brand has more than 28,000 Facebook fans and nearly 18,000 Twitter followers). For instance, in conjunction with the cross-country tour, consumers in the tour cities were invited to post photos to Facebook depicting their love for poutine, with a poutine party and free poutine for a year as prizes.
While Smolkin favours the unconventional and cool factor, it's also been about trying to make an impact with limited resources. For example, he says the brand's popular plaid stickers with Smoke's mug (a mere double-digit budget campaign) likely has more impact than a multi-million-dollar promotion from a QSR giant competitor.
As such, the brand has had to carve out its niche, he says, going the route of events, PR and social. The budget has grown to $450,000 for this year – still not enough to shoot a TV spot, he notes.
But even if he could afford to do it, he probably wouldn't. Despite zealous ambitions to grow and penetrate foreign markets like Australia and the Middle East, the plan is to stay the course with what has worked – events and social being key.
Education will be part of the strategy in markets less familiar with poutine, as well as adapting the toppings based on consumer insights. After all, it's just loading stuff onto fries – an international staple, he says. Moreover, it's about tweaking the communication – Smoke's uses the term "loaded fries" rather than poutine in the U.S.
Meanwhile, penetration into non-traditional segments has been a core part of the expanding footprint – from stadiums and post-secondary campuses to amusement parks and highway rest stops. Last year there were eight of these locations, while 60 more are expected by the end of 2015. The first foray into this segment at Rico Colosseum was about proving the model would work, he says, and generated interest from other non-traditional sites like the Air Canada Centre and Rogers Centre.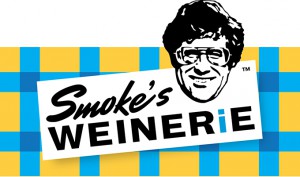 Fast-forward to today, amid the bustle of the Burritorie launch, Smolkin tells another story that's a powerful indicator of the evolution of his fry shop. Donning plaid, he recently accepted an invitation to meet with someone he's idolized, Gene Simmons, and his wife Shannon Tweed. (This followed the Hollywood location's launch, to which Canadian celebs, like Tweed, were invited.)

Smolkin recounts driving through a set of gates to a mansion (which he didn't realize belonged to Simmons at the time, as he had been told they'd meet at someone else's place). After emerging from his vehicle, Smolkin wasn't sure where to go, but suddenly heard a voice.

"'Plaid guy, you're going the wrong way.'"

It was Simmons standing on the stairs leading up to his home, who proceeded to invite Smolkin in.

Like Simmons, Canada – and now the world – have let Smolkin and his eccentric brand in. No doubt they're going the right way.