LG's escape pods
The electronics maker creates an immersive viewing experience to show off its new high-end OLED TVs.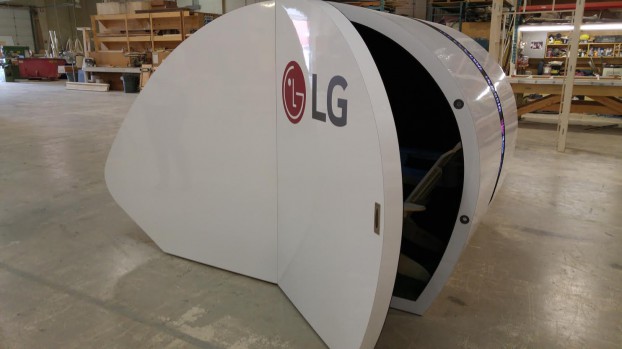 There are those of us who don't mind watching a bit of Netflix on our laptops or tablets (or even our phones), but LG is betting big on those who value a premium TV-watching experience.
To promote its new line of OLED televisions (positioned as having the best picture quality available on the market), the tech co worked with Mint Agency to create experiential "viewing pods" to showcase the benefits of the high price point electronics. PR agency LG-One was tasked with promoting the experience.
The two pods allow one or two people to sit in a Muskoka chair on some grass and have an immersive, two-and-a-half minute summery experience by watching images – such as a sunrise, lake and starlit night – on a 55-inch OLED screen. The theme was chosen since the weather has turned cold and it's a draw to feel the summer cottage life again, says Abraham Cherian, senior brand manager for home electronics at LG.
"TV is about escapism, so we thought how better to escape than providing this experience and transport the viewer from a cold fall day to a beautiful summer memory," he says. "Seeing the TV is actually the way to convince the customer to buy it or at least be interested in it," he adds, which is why LG went with the experiential piece instead of a broadcast or out of home campaign.
LG brand ambassadors are on-site to explain the products and where they can be purchased, and a panoramic display with OLED screens outside the pods is meant to catch the eye of passersby (which Cherian argues isn't hard, since the picture quality and display are so vivid).
The experience began this week at Yorkdale Mall and will soon move on to Toronto Pearson International Airport and two central office building locations in the city's downtown financial district.
For its OLED TVs, LG is targeting high-income earning men over 35 who may not even be in the market for a new TV but appreciate picture quality, making the financial district activations particularly important, Cherian says. Even at Yorkdale, which has more mass traffic, the experience is positioned near men's luxury retailer Harry Rosen, in an effort to attract the target demo to try the experience.
Because the least expensive OLED model is still about $3,000, the line doesn't have a mass target, he says, adding that only about 5% of the TV market is around the same price point (there are other brands that manufacture high-end TVs, but OLED technology is unique to LG.) "It's about creating a desire to have the best TV, versus [targeting] someone who needs a TV," Cherian says.
The plan is for LG to continue the viewing experience outside the Greater Toronto Area across the country next year.