Dominic Mercuri's new direction
As he prepares for retirement, we ask the TD CMO to reflect on the changing banking landscape.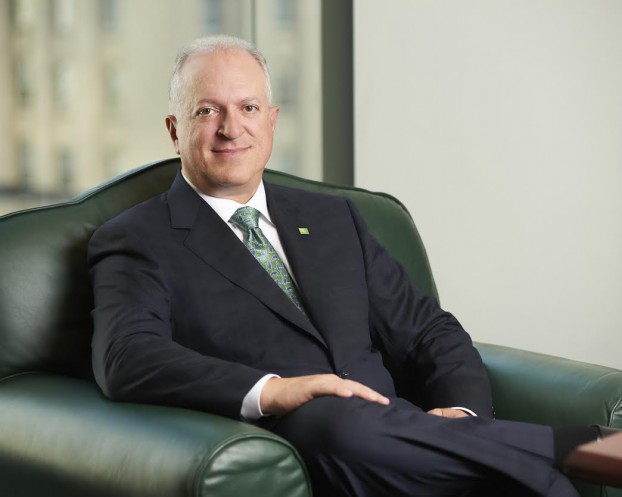 This story appears in the November 2015 issue of strategy.
A lot changes over 23 years. Since joining Canada Trust as a marketer in the early '90s, now-EVP and CMO at TD Bank Group Dominic Mercuri has witnessed the shift from knowing your bank teller's name to instantly transferring thousands of dollars via the phone in your pocket.
But through that, those who have worked with the long-time financial services marketer say he's always kept the big picture in mind, using words like "balanced" and "thoughtful" to describe his approach.
"Consistency in marketing, especially from a brand marketing standpoint, is probably the least sexy thing in advertising and probably the thing that people get wrong a lot," says John Boniface, currently president and partner at Toronto agency Central Station. The two worked closely for 13 years, some of which while Boniface was at TD's then-AOR Draftfcb.
"I think one of the hallmarks of Dom is doing the homework up front and getting the strategic part of it right, making sure that it's right, and then sticking with it consistently," Boniface says.
Mercuri had stints at CIBC and Royal Bank before joining Canada Trust as assistant VP of direct marketing in 1992. Joining TD Bank Financial Group in 2001 (when TD and Canada Trust merged), Mercuri took the CMO role in 2004 and now oversees roughly 525 employees globally.
During this time at TD, the bank introduced its iconic comfortable green armchair, along with its "Grumpy Old Men" characters, focused on touting its longer-than-usual hours. More recently, the brand has had much success with its "#TDThanksYou" and "#MakeTodayMatter" platforms, created by Leo Burnett and Diamond Integrated Marketing, involving real customers in its advertising. Last year, Mercuri was named the Canadian Marketing Association's Marketer of the Year.
"His understanding of the institution is unmatched," says David Diamond, managing partner at Diamond Integrated Marketing. "I'd say that Dom always offered a very rational perspective and a very balanced approach as well."
"A really strategic, smart marketer takes a very rational view," he goes on to say. "It's not about jumping for the shiny new thing, it's about trying new things but not losing sight of who you are, and I think he's kept that at the helm."
Diamond and Boniface both credit Mercuri with leaving the TD brand in excellent health as he prepares for his retirement at year-end – the bank took the top spot on Interbrand's ranking of Best Canadian Brands in 2014, and in July, it was awarded the customer satisfaction award from J.D. Power.
Meanwhile, Mercuri himself says he looks forward to what incoming CMO Theresa McLaughlin – who he calls a "great leader" – and the team he leaves behind will do.
We talked with Mercuri about his time in the industry as he prepares to sit back and relax in retirement – maybe even in a comfy green chair.
You've credited your beginnings in direct marketing roles as the reason why you favour quantifiable, measurable marketing. Is that still your focus?
The more quantifiable you can be, the more confident you can be that you're making the right kinds of decisions. I've found that facts do matter and the more facts you can bring to the table, the quicker the decision is made and the quicker [you can get] others to support and buy into your decision. I wish all marketing activities could be driven from very tightly measured activities, we know that's the Holy Grail. I don't think we've gotten there yet, but we keep getting closer to that.
Every employee [at TD] has some component of their variable compensation linked to the customer experience. We measure that daily, so we'll do hundreds of thousands of checkpoints with consumers randomly throughout the year to see how we're measuring against those deliverables. That's how we use analytics to understand what consumers are looking for in the organization.
How has TD applied that to its marketing specifically?
I'd say all of our campaigns start with a heavy dose of analytics to determine what the opportunities are with a potential strategy. Even with our branding activity, you start with intense analysis around what consumers are looking for and how TD actually performs against those high priority areas. Then we look at how we communicate and reach those consumers, and then we measure how well we've done. I'd say pretty much everything that we do is grounded in that philosophy.
For example with cross-border banking, we did a lot of work to understand the needs of consumers when they're doing business in the U.S. We used analytics to really segment the customer base. On one hand, you've got snowbirds, who have very specific and different needs than the shopper/traveller segment. For snowbirds, you may see us at events in Miami targeting Canadian consumers, which is a very different tactic than we would have with shoppers/travellers. Cross-border sounds like it's just one product but it's actually meeting the needs of different segments, and we communicate differently to those segments.
What do you think is the biggest challenge facing financial institutions now, especially in terms of marketing?
I don't think it's only financial institutions that have this challenge – there's fewer direct interactions with consumers because they deal with us in so many ways today.
So, how do you represent what your brand personality is when you're dealing with customers whose main point of interaction 20 years ago would have been in the branch or over the phone? Now, it's using their mobile app.
We have to find other ways to [have] personal interactions with consumers. I'd say that's the biggest challenge that we've had for several years and I think that will continue to be the challenge for organizations – to make your brand the brand of choice as you go forward.
What has TD been doing to meet that challenge?
We've looked for different ways to engage and interact with consumers. A few years ago, we began with our service where consumers could connect with us through social media and we could answer questions where traditionally they would have had to call or go into one of our branch locations.
One of the areas that I'm also responsible for is Ugo, which is an open mobile wallet application. We saw there may be interest [among] consumers to have a mobile app where they can carry more than one payment mechanism, more than one loyalty card, and do a number of other things that really replace the traditional wallet.
I'd also say we've become a lot more active in experiential marketing than we were many years ago, and we try to leverage our TD Music program quite a bit.
We've tried to really bring music out into the communities which we serve to actually create an experience where consumers can interact with TD outside of their typical banking environment.
Last summer, we had a pop-up concert just outside of Roy Thomson Hall in Toronto where we had live performances and attracted hundreds of lunchtime passersby to experience TD Music.
We've done things with the Junos, where we've created comfort lounges where some of our clients could interact with artists at the show. So we try and build events around the various music venues and try and make them very specific to the neighbourhoods we're in.
The same with the environment. TD has had the Friends of the Environment Foundation for over 25 years. Those are very locally driven activities. There's local decision-making around what types of programs that we want to have to help make the environment better in those local communities.
What would be your advice to the next generation of marketers?
I think the key is to always be looking forward, and to understand what's changing in the environment that you work in and where consumers are going. But the biggest thing that I've found is to have a strategy and then evaluate what you want to do. [Look at] things that you see that are coming into the market or that others are doing, and evaluate whether copying something or moving in that direction makes sense when compared to your strategy. Don't be afraid to walk away from something if it doesn't fit the direction you want to go in. It's really having a vision as to where you want to go and then just being dogmatic about getting there.