Check it out: This PSA is not for you
Partnership for a Drug-Free Canada challenges parents in denial about what their kids might be doing.
Partnership for a Drug-Free Canada is confronting parents for being naive about how likely it is for their kids to be involved in a drug-related accident, despite all the research and other PSAs that say otherwise.
The campaign is based on the insight that many parents may be in denial about the possibility of their children doing things like driving while high. PDFC research showed 78% of parents believe their kids would never get in a car driven by someone who is under the influence of weed, despite a recent study by the Centre for Addiction and Mental Health showing one in four high school students have done so.
In a video created by Union, a woman tells parents they don't need to listen to what she's about to say, even though she goes over the prevalence of fatalities from drug-impaired driving, sardonically telling them that it would never happen to their children. That is, until it finally does.
"There is still relatively low awareness of the dangers associated with driving under the influence of drugs even though it causes one third of all road fatalities," said Marc Paris, executive director of PDFC, in a press release. "By highlighting this issue with parents, we hope to encourage more family conversation around the topic."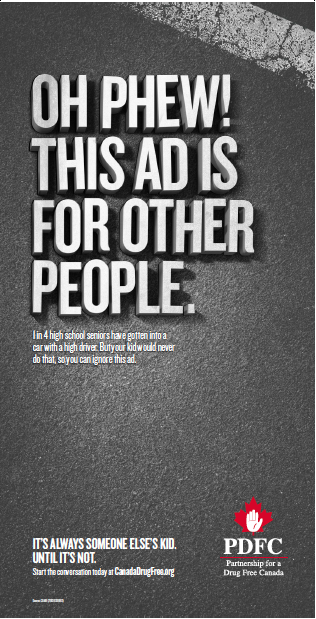 The campaign will also feature a 15-second video with a similar concept, as well as radio, print, OOH and digital. The creative all drives to a PDFC website that features resources and tools around drug-impaired driving and ways parents can speak to their kids about the issue.
"The idea is to shake people out of their 'PSA complacency' by telling them not to listen or read our ads," said Lance Martin, ECD and partner at Union, in the release.
This is the latest effort by PDFC to address the dangers of driving while under the influence of drugs, following past campaigns tackling the subject in 2014 and 2015.
The campaign is Union's first with PDFC since winning the work in October. The agency will also debut a campaign continuing the organization's past work on prescription drug abuse this summer.