CASSIES Silver: LaPresse+ provides a new perspective
The newspaper finds success with its app by building on rituals and familiarity.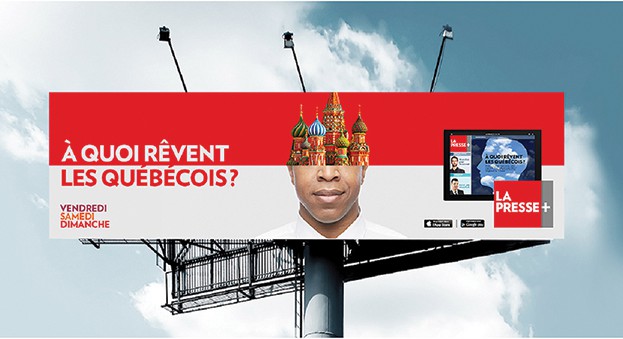 This story appears in the February/March 2016 issue of strategy.
Silver: Sustained Success
Situation Analysis
The newspaper industry is suffering a crisis, driven by the rapid growth of digital communications, adverse demographic trends and falling advertising revenue. La Presse, the largest French-language daily in North America, was equally victim to these trends. Understanding that the growth of tablet penetration rates are three times higher than smartphones, La Presse chose to launch La Presse+, a unique, interactive and free daily news app for tablets, delivering an intuitive news distribution and advertising platform. To succeed, LaPresse+ quickly needed to reach a critical mass of readers in order to legitimately claim to be a mass media and increase usage frequency.
Insight & Strategy:
Technological evolution has drastically changed the way information is consumed. Readers have gradually abandoned paper in favour of websites, which are more adapted to their lifestyle: more accessible, more up-to-date and more interactive in terms of content. Digital readers were eager for tools that could act as content curators while, for many remaining regular readers, their reading ritual was anchored in their daily routines. The key to both groups would be convincing them that La Presse+ included everything they liked about La Presse, but with category-leading digital capabilities. The name, "La Presse+," would highlight the enhanced value proposition while the colour palette highlighted the newspaper's different sections to create a sense of familiarity.
Execution:
The initial awareness-building campaign commenced April 2013 in the Montreal area, using television, OOH, web, radio, print, experiential, promotional and email with a $4 to $5 million spend focused on inviting readers to download the application from the AppStore or LaPressePlus.ca. In year two, the communication shifted to the content and user experience with a 360° campaign "Il y a l'information qui se lit. Il y a l'information qui se vit." (News to be read. News to be experienced). Media buying was done based on the daily digital media life cycle of consumers while web banners targeting LaPresse+ users who hadn't opened the app provided links to specific articles inside the app.
Results:
During year one, weekly readership reached over 325,000, and then increased 39% in year two to more than 450,000. Of these, 14% had never read La Presse in any form previously. In two years, La Presse+ became a Quebec digital leader and increased its number of advertisers by 97%, such that the majority of advertising revenue now comes from the LaPresse+ app, not from the newspaper.
Cause & Effect:
LaPresse+ was an all-new product. Before the communication efforts, La Presse+ (or even the general project idea) was completely unknown. The product benefitted from wide media coverage, as well as the overall communications strategy.
Credits:
Client: La Presse Limitée
VP marketing: Michel Gagnon
Senior director marketing: Christiane Dubé
Director, digital brand strategies: Yves Lebon
Agency: Cossette
VP Client Lead: Joanne Nantel
Group account director, account services: Nadja Décarie
VP strategic planning: Florence Girod
CCO: Antoine Bécotte
CD: Barbara Jacques
ACD: Anik Ouellet
ADs: Isabelle Allard, Anne-Marie Clermont, Claudie Grenier-Côté, Sébastien Guy
CWs: Karine Bouchard, Mélanie Delisle, Élyse Noel de Tilly
Strategic planner: Mélissa Hébert
Director, account services: Emilie Dallaire
Account executives: Tiffany N'Guyen, Léa Racioppi
Media director: Julie Courtemanche
Media planner: Steve Richer
Media digital planner: Simon Garnaud
Retouchers: Daniel Cartier, René Lachapelle
Computer graphics: Nathalie Boucher, Maxime Bluteau
Digital production: Simon Bugeaud, Michael Aspiros