Creative Report Card: Anything's possible at Leo Burnett
The top agency spent its "Year of What's Possible" blowing minds and racking up awards.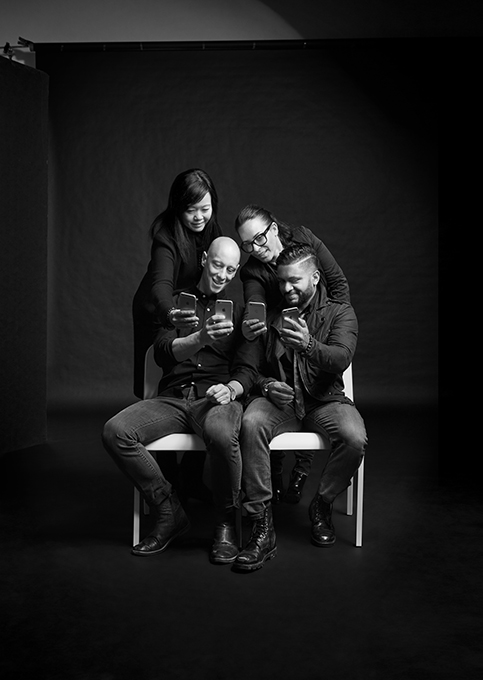 Clockwise from left: Judy John (#1 CD), Lisa Greenberg (#3 CD), Anthony Chelvanathan (#1 AD/ #12 CD) and Steve Persico (#1 CW/#12 CD).
This story appears in the February/March 2016 issue of strategy.
#1 Agency
Walk the hallowed halls of Leo Burnett Toronto, and you'll notice the agency's mantra on the wall. "We are on a mission to show the world a level of creativity, design excellence, digital innovation and teamwork that will blow people's minds," reads part of the sign.
"'Blow people's minds' — what a beautiful turn of phrase," Leo Burnett's global CCO Mark Tutssel said as he rhapsodized about the Canadian arm during Toronto's FFWD Ad Week. "To blow people's minds, you've got to do something that fucking registers on the Richter scale, and that's what [Toronto Leo Burnetters] do on their best days."
Work that registers on the Richter scale. That's a pretty accurate description of the monumental impact the shop had on the awards circuit in 2015. Not only did it top the agency, CD, AD, and CW lists, it did so in record-breaking style. The shop managed to rack up the highest total score in CRC history, doubling this year's #2 agency's points, and then some.
Judy John started 2015 by calling it "The Year of What's Possible." The CCO and CEO very quickly discovered that pretty much meant anything. The masterstroke year saw Leo step away with grand prizes from CASSIES to Cannes, and even picking up Canada's first-ever Emmy for Outstanding Commercial. Much, but not all, of the shop's success can be attributed to the "#LikeAGirl" work it created for P&G's Always brand.
"A client recently asked someone at the agency, 'You've had a few great years. Now what? Are you going to be one of those agencies that's hot for a few years and that's it?'" John says. Her answer to that question is simply no: "We have our foot on the gas all the time."
Yes — the shop is being challenged with "big agency growing pains" more than ever before, as it rides the wave of recent global success, says EVP and COO David Kennedy. But that's not to say the momentum can't be maintained. He believes its secret weapon lies in the work processes his team, specifically pointing to Brent Nelsen (who was promoted to EVP, chief strategy officer, alongside Kennedy, when then-CEO Dom Caruso left a year ago), have developed over the years.
While strategy isn't the only thing that can lead to great creative, Kennedy says the exec team has purposely created a working system that encourages teams not to give it the short shrift. Leo Burnetters spend equal time on strategy as creative.
"Our creative people would rather spend less time working on a brief if they know they're being delivered a business problem or brand purpose that's clear…And that's rare. I think sometimes there's a tendency [for agencies] to say, 'Well, let's get the brief to the creative department as fast as we can — we've only got so many weeks.'"
Some might argue that taking time away from creative is folly, especially in today's "Walmart-ification of the world" (as Kennedy likes to call it). But Leo has experience perfecting how it manages time, assigns teams and classifies projects, ever since it was thrown in the deep-end in 2008. That was the year it picked up its first retail client.
"Before then we were primarily a CPG agency, but then we were fortunate to pick up the Bell business," he says. "It was a fast-moving piece of business, with tight timelines and high volume. And that, to me, was a really big moment for us in changing our culture and the way we work."
The agency not only came out unscathed, it succeeded, and has picked up just as many retail clients as CPG over the years, from Ikea to TD to Earls Kitchen + Bar.
"I don't believe people look at Leo Burnett and think to themselves, 'Oh, that's a creative-driven agency, or a client-service agency, or even a strategic-driven agency.' I like to think all three are equally represented," says Kennedy.
That cohesiveness doesn't go unnoticed, with Tutssel remarking how, every time he visits the Toronto office, he has no idea who does what, rather meeting a "body of people" who all "walk in-sync with each other…Everybody adds something, they operate as a circle as opposed to a triangle, and I think they've done a great job."
TSN gives tennis the royal treatment
#3 brand
Campaign: "Kings and Queens of the Court"
Some of the wins: D&AD Wood, One Show Gold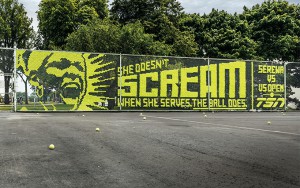 Good things take time. For Leo Burnett, it took almost two years before its idea to squeeze 15,000 tennis balls into a fence on a local Toronto court came to fruition.
Before "Kings and Queens of the Court" was a trio of murals for Bell's TSN channel (with thousands of yellow balls sketching the faces of pro tennis players, such as Serena Williams), it was an idea submitted to the National Advertising Challenge. It was originally planned for another brand, which was not a client of Leo and which decided not to execute the idea in the end. But the team didn't give up. After a long search, they realized that TSN would be a perfect match (pun not intended). "They wanted to promote coverage of the U.S. Open. We had a love of tennis balls," says copywriter Steve Persico.
Everyone on the team pitched in to design the grids, lug bags and climb ladders to place the balls in the fences. The idea was to inspire people to play tennis during the U.S. tournament and, of course, to watch the games on TSN, which many did, with the channel reporting a viewership jump of 24% (an increase of more than two million) compared to the previous year.
Ikea pulls consumers in
#7 brand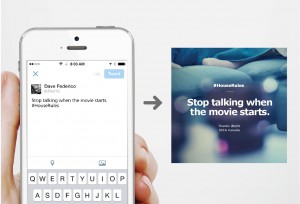 Campaigns: "Quick & Easy Room Makeover" and "#HouseRules"
Some of the wins: CMA Gold, AToMiC Silver, Shopper Innovation Awards Gold
It wasn't just one Ikea campaign that hit it out of the awards park last year. The brand managed to pick up a plethora of trophies for creative from "Quick & Easy Room Makeover" and "#HouseRules." These two campaigns did particularly well on the circuit, and they were both meant to create a dialogue between the brand and consumers.
The room makeover campaign saw Ikea recreating a home renovation show. But instead of showing makeovers that tend to be "expensive and full of nightmares," says creative director Morgan Kurchak (#19 on the CD list), the team decided to do the complete opposite and showcase "inexpensive, fast and easy" renos, which meant they could create multiple two-minute spots rather than the typical 30-minute home reno show. The campaign, which featured real couples getting tips from a designer to transform their rooms with Ikea products, led to an 11% sales increase in textiles and a 10% increase in store visitors compared to the same period a year ago.
The "HouseRules" campaign also saw Canadians interacting with the Ikea brand, but on a much larger scale. The idea was to illustrate that Ikea understands how Canadians live at home, says Kurchak. The brand asked people what their own house rules were on social media, and then featured their suggestions in TV spots, while showcasing how its products bring their rules to life. "#HouseRules" led to a 12% same-store sales increase from the previous year.
Raising the Roof humanizes homelessness
#19 brand (tie)
Campaign: "Humans for Humans"
Some of the wins: Communication Arts, CASSIES Bronze, Epica Silver
If the team at Leo Burnett hadn't taken the time to meet the people who Raising the Roof help on a daily basis, they might not have come up with the idea for "Humans for Humans."
"We've had the opportunity to meet people living with homelessness in a way that most don't," notes Steve Persico. "Sitting with them on the edge of their bed in shelters, grabbing a coffee between shots, giving them rides." He says that by hearing their life stories, they were able to see them as individuals (which people tend to forget they are).
The campaign encouraged "people to act as humans and help other humans in need," creating 50 videos that showed homeless people reading and reacting to mean tweets (a social trend initiated by Jimmy Kimmel). The videos each received thousands of views, while the main campaign video, featuring snippets of homeless people reading the tweets, tracked nearly
1.4 million views.
TD shows its appreciation
#19 brand (tie)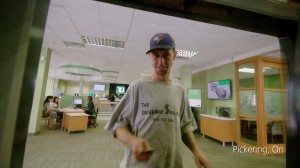 Campaign: "#TDThanksYou"

Some of the wins: CMA Best of the Best, AToMiC Bronze

The financial category has its own awards season, which tends to leave magazines filled with ads of award-winning banks congratulating themselves for a job well done. But TD wanted to go beyond the "standard, self-congratulatory" print ad and instead focus on showing its appreciation for customers, says creative director Josh Budd.

The idea to create an "Automated Thanking Machine," where the brand gave away surprise gifts to long-standing customers, came after the agency team looked at "banking conventions," says Budd, eventually landing at the ubiquitous bank machine that tends to have a very static role in the banking experience.

"The turnaround was fast and expectations were high, bringing multiple agency partners [including Diamond Marketing] together to pull off something special," he adds. "Sourcing the stories, setting up the ruse, building the executions — it all came together in just over a month." The video tracked nearly 23 million views.