Cannes Contenders 2016: Mighty good media
From coffee to cars, see which creative campaigns used media to their advantage (maybe enough to pick up a Lion or two).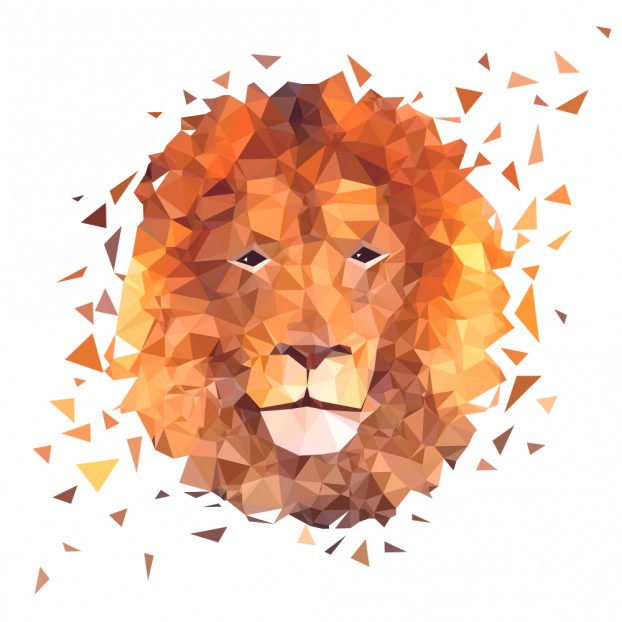 It's only just starting to warm up (kind of) for most of us here in Canada, but we're already looking ahead to June and the 2016 Cannes Lions International Festival of Creativity. As the industry puts the finishing touches on its submissions for this year's awards, we asked some insiders to share the work from their peers that they think will come out on top in 2016. Stay tuned as we continue to roll out more of the potential contenders for this year and be sure to check out parts one and two of our series here.
McCafé Snow Report billboard
Brand: McDonald's (McCafé)
Agency: Cossette Vancouver
Potential Lions categories: Outdoor
"Thousands of articles and conference talks have been dedicated to the topic of 'big data.' And yet we really haven't seen a spike in smart campaigns utilizing this information in an interesting way," says Cory Eisentraut, VP, creative director at Havas Worldwide Canada.
"One brilliant exception to this reality is the McDonald's McCafé out of home board created by Cossette Vancouver," he says. "On the highway up to Whistler, skiers were given the snowfall report in the form of a McCafé beverage and it's foam topping. The more snow the hill received that night, the higher the foam was piled on in real time. A compelling piece of information served up to the perfect audience in one gigantic product shot. I've got a feeling the out-of-home jury will be as impressed as I am."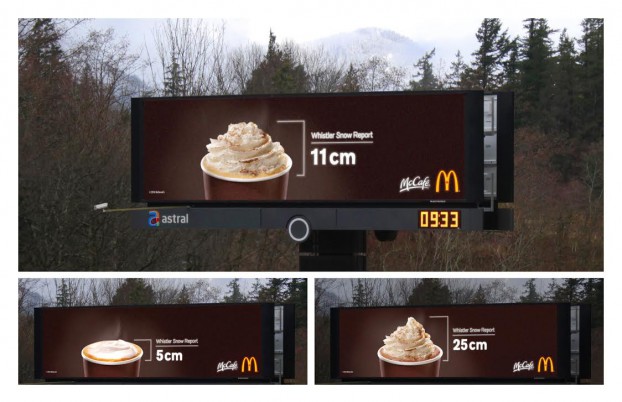 See Things Differently poster
Brand: PFLAG (parents, families, friends and allies of Toronto's LGBTQ community)
Agency: J. Walter Thompson Canada
Potential Lions categories: Promo and Activation
It can be tough to get kids to sit up and take notice of something, especially when most of them are looking down at their phones.
"But that's what I really like about this poster campaign for PFLAG created by JWT," Eisentraut says. "They actually found a way to use the problem to solve the problem. By hiding a profound message in the poster that would only be revealed with the use of a camera phone flash, they created a poster that kids wanted to take notice of. This type of innovative problem solving is exactly the kind of work that Cannes should be rewarding.
Since the original campaign launched, JWT and PFLAG have continued to make new posters that feature an even more illuminating message.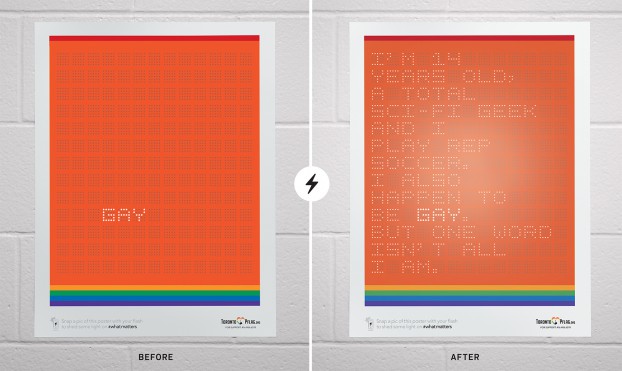 Experience Blindness
Brand: The Foundation Fighting Blindness
Agency: Starcom Mediavest Group
Potential Lions categories: Health and Wellness (Education and Awareness)
This campaign for the FFB created a blurred image over live TV and print ads to have viewers experience what macular degeneration is like.
"The awareness results (+129% unaided) of playing with TV in this way were fantastic and it has a great chance in the Cannes Lions Health and Wellness category for Education and Awareness," says Brooke Leland, VP, connection planning at Jungle Media Canada.
"However, what was most impressive was that they then convinced their client Kellogg's to agree to black out/blur a national Mini-Wheats ad," she says. "There should be a category called 'DAMN! I can't believe your client actually let you DO THAT!'"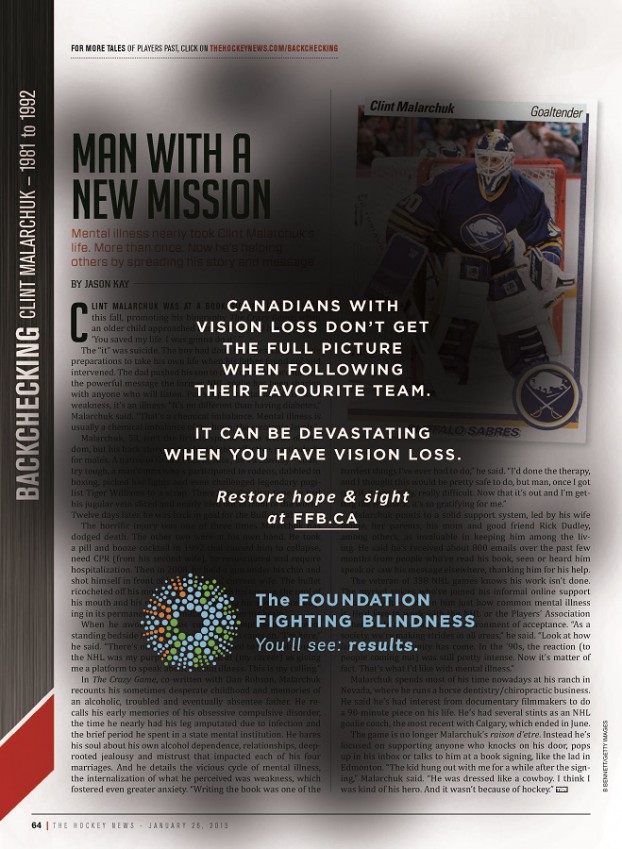 Six Billion Hours
Brand: Volvo

Agencies: Grey Canada, Havas Media

Potential Lions categories: Media

"This is a nice use of media and message to promote the launch of Volvo's XC60 SUV's 60-some features," says freelance creative Lara Palmer. "Instead of one standard pre-roll ad, Volvo created videos that linked the vehicle's features to over six billion hours of YouTube videos. In theory, the more YouTube you watched, the more you learned about the car.In the YouTube context, it works well."