Natrel highlights the diversity of dairy
The Agropur brand gets serious about mac and cheese with an online content hub.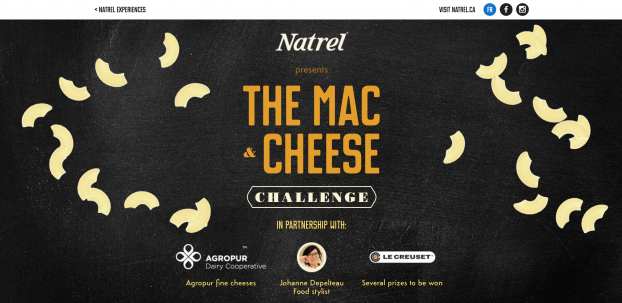 Natrel is challenging itself to produce a full year's worth of different macaroni and cheese recipes, its latest attempt to show just how many ways its products can be incorporated into more ambitious food creations.
Beginning back in November, Natrel has released one of 52 different macaroni and cheese recipes every week on The Mac & Cheese Challenge website and Instagram, created with assistance from photographer Virginie Gosselin and food stylist Johanne Depelteau. All of the recipes feature Natrel milk and cream products, as well as cheeses from the wider family of Agropur products.
There is also a contest where Instagram users can create and post their own mac and cheese recipes to win monthly prizes from cookware company Le Creuset, with a grand prize to be drawn at the conclusion of the Lg2-led campaign in November.
Since launching, the brand has doubled its Instagram followers, and time spent on the Mac & Cheese Challenge site is now topping five minutes.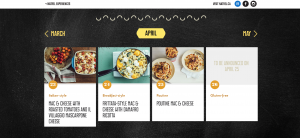 Stéphane Renauld, national marketing director for Natrel at Agropur, said in a press release that one of the main goals of the campaign has been highlighting the diversity of dairy products (including lactose-free and organic options, which are increasingly important to health-conscious Canadians) to help reverse declining dairy consumption. Promoting occasions to use its products outside of a regular glass of milk has been an important tactic for the brand.

Natrel's Milk Bar, launched in Montreal last year with Java U coffee shop, celebrated the role of milk and dairy in creating a great cup of coffee. The success of Milk Bar, which led to 9% sales growth and a three-point market share growth in the Montreal area, has led to plans for more locations in Toronto and Vancouver in the near future.

The Milk Bar was also built on "foodie culture" to capitalize on Quebec residents' perception of their own tastes, something apparent in how the "The Mac & Cheese Challenge" looks to find dozens of ways to elevate what might otherwise be regarded as a simple dish through dairy.

On a similar note, a recent, unrelated campaign showed a group of "milk experts" – from babies and cows to Santa Claus – being unable to tell Natrel's lactose-free milk from the real deal.