Canadian Safe School Network socks it to bullies
A new influencer and fundraising campaign celebrates being unique.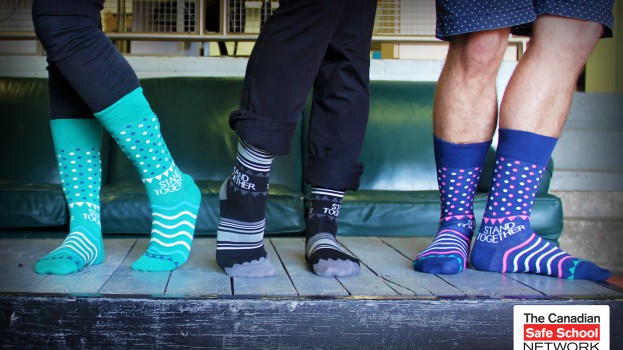 Usually, bullying happens to kids who are different.
For its new campaign, kicking off tomorrow, the Canadian Safe School Network wanted to use differences to its advantage, teaming up with Yo Sox to create unique socks that can be purchased in support of the organization's anti-bullying mission.
The "#StandTogether" socks will be available for sale online, with Yo Sox giving a percentage of sales back to the Canadian Safe School Network as a fundraising initiative. Consumers are encouraged to pose with their socks and share them on social media using the hashtag.
The Canadian Safe School Network also has about 200 online influencers and bloggers on board to help promote the program. Each has received a pair of socks to share on social media, but more importantly, the organization wanted them to share their own personal stories, not just their support for the brand, says Ryan Hollinrake, director of partnerships and strategy for the organization.
As he approached influencers, many of whom look like they have worry-free lives on Instagram, he says he realized that most had their own stories of bullying to share.
A 30-second version of a PSA featuring some of the influencers sharing their stories is being carried on Sportsnet, which donated media including digital banners and a full page ad in its magazine (the Canadian Safe School Network has a long-standing relationship with Sportsnet president Scott Moore and the NHL). A full page ad is also running in Today's Parent magazine, another Rogers-owned property.
Social media influencers sharing their not-so-perfect pasts is important, given that so many youth today experience bullying online. The Canadian Safe School Network says that 70% of reported bullying is because the victim looks or acts differently, whether because of race, weight, clothing or sexual orientation. More than half of teens have had at least one negative social networking experience and 33% of students bullied online report symptoms of depression.
The Canadian Safe School Network's "Kids Read Mean Tweets" campaign last summer, created by John St., was good for visibility but didn't necessarily prompt action, Hollinrake says. That sparked the need for an awareness campaign that would connect the dots back to the organization.
The campaign also involves an online component targeting digital influencers, led pro bono by Toronto agency Bimm. The shop created a series of "Bully Ads," taking on the role of the bully with displays shouting messages like "Nobody Likes You." Media agency Touché! then used retargeting to shift the idea of annoying banners that follow you around the internet to a bully following you with hurtful messages.
With files from Sonya Fatah, Media in Canada