Frank + Oak evolves its experience
The retailer unveils a new look, app and two-hour delivery as it doubles down on its brand purpose.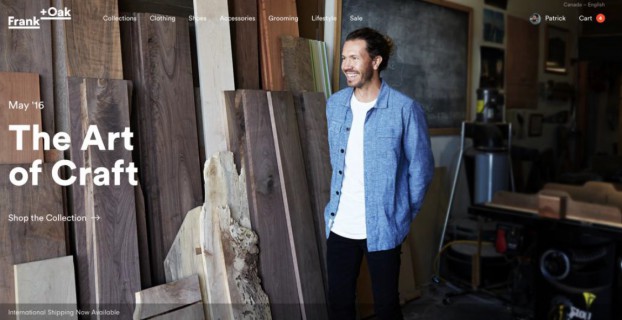 Frank + Oak is doubling down on its goal to be a retailer that offers guidance to its customers, with a revamped website and visual look, new app, store format and delivery options.
Among the changes – which include a new "Frank + Oak" logo change from "Frank & Oak" – is a new mobile app that aims to offer more personalized, 24/7 customer service by integrating the human experience with automation, says Ethan Song, the brand's CEO and co-founder.
The app includes "guided shopping," which uses bot technology to offer shoppers recommendations through live chat as they shop. It also includes "micro-personalization and suggestions" based on users' profiles, location and prior purchases.
Shopping is a "social pursuit," and the retailer wanted to mimic the experience of shopping with a trusted friend, Song says.
"It's really rooted in distilling and leaning into our purpose as a company, which is to elevate how people dress and live," says Eric Alper, Frank + Oak's CMO.
Using bots for customer service isn't a concern for Song, despite some brands experiencing hiccups with the tech of late.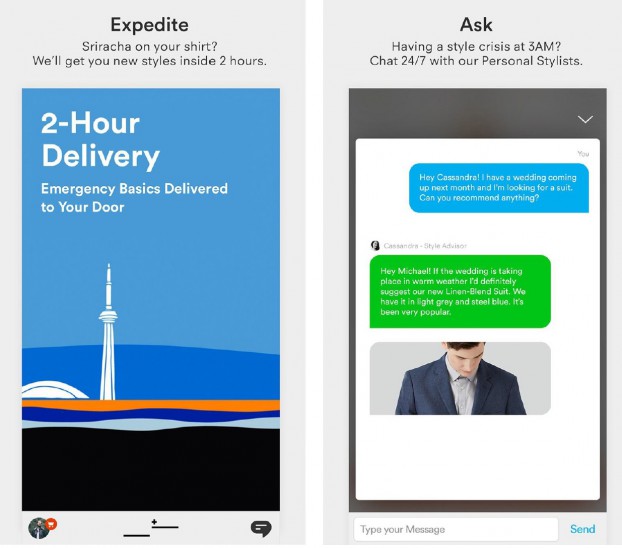 Frank + Oak has actually been experimenting with the technology for the past couple of years, and for him, the idea of using bots to chat with customers is about improving the overall e-commerce experience and learning more about customers.

"The new wave of e-commerce is not necessarily about access, because you already have access to everything," he says. Instead, it's about offering relevant advice and guidance to customers as they shop.

The brand has also introduced two-hour delivery in Montreal, Toronto and Vancouver, available weekdays during business hours (the plan is to expand the service to all of the brand's Canadian and U.S. markets by September). Users will see a personalized selection available for same-day delivery on their app home screens.

Along with the upgraded app offerings, Frank + Oak has also unveiled a new visual identity, including a new logo meant to show how the brand can help its customers take a "step up" in their lives.

"I think that what we wanted to do is to basically revisit our main purpose as a brand, as a company," Song says.

On the bricks-and-mortar side, Frank + Oak has also opened its new flagship store in Montreal, with more locations set to open in other markets in the coming months. The new stores are meant to offer a community experience to shoppers, and include services like a barber shop, personal styling and lounge.

Frank + Oak relies heavily on word-of-mouth to let customers know about changes its made, Song says. The brand currently has 2.5 million customers and has experienced over 80% new user growth since last October.

The brand is also about a month into its international expansion, now shipping to more than 40 countries. While it's too soon to share sales outside of North America, Alper says initial sales look "promising."