Mercy Ships shows its moving health care
The first mass campaign for the NGO depicts the work done on the world's largest civilian hospital ship.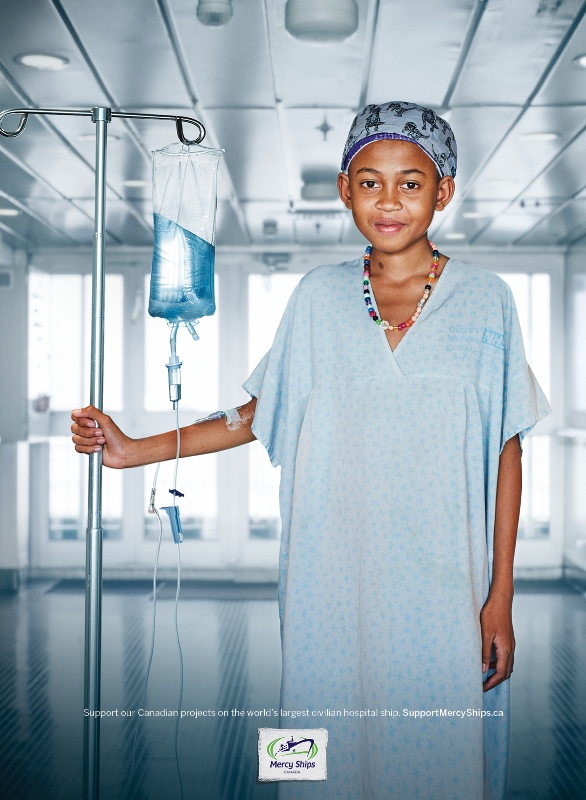 Vancouver-based NGO Mercy Ships Canada has launched its first mass awareness campaign as it plans to expand its services in 2018.
The global charity's work centres on the Africa Mercy, the world's largest civilian hospital ship staffed by 450 volunteers who bring health care to local populations. In 2018, the organization will be bringing a second ship into service (its first-ever purpose-built ship), effectively doubling its fundraising and volunteer recruitment needs on a global level, says Timothy Maloney, national director at Mercy Ships Canada.
To do that, it partnered with Geometry Global, which approached the organization to do the work pro bono.
The integrated campaign uses work from Canadian photographer Matt Barnes, who depicted the stories of some of the people living in Africa who benefit from Mercy Ships' services.
Geometry partnered with Ogilvy & Mather, Neo@Ogilvy, OgilvyOne and PR shop Neat Marketing Communications on the media plan, social campaign, print ads and 15-second spots (also filmed by Barnes). Those depict a nautical theme that's a nod to Mercy Ships' uniqueness as a health-care organization (for example, surgeons wearing life vests).
The photographs are also being featured in an exhibit at Struck Contemporary Art Gallery in Toronto from today until June 5 as a fundraising initiative. The original collection will be sold at the gallery and limited edition prints will be sold through an eBay auction, with all proceeds going to Mercy Ships.
The exhibit is also employing visual recognition app Shazam during the exhibit. Attendees can scan an image with their smartphones to make an instant donation for a specific treatment or medical supply (for example, eye surgery when the focal point of the photograph is a child's eyes).
"It was important for our team to maintain authenticity throughout this entire campaign, therefore all the people featured in our creative were patients and volunteer doctors and nurses," Barnes said in a press release. "In fact, just one week prior to our shoot, Claudio, a 14-year-old Malagasy boy featured in our 'IV' ads, had undergone surgery to remove an invasive 7.5 lb life-threatening tumour from the back of his head."
Previously, Mercy Ships Canada relied on internally-driven public relations. While Mercy Ships has a broad target generally, this new campaign is focused on reaching millennials, with the hope that the artistic approach engages them, Maloney says.