A drink to our Heroes
Southpaw Beverage's new lager brand uses Canadiana packaging to spark an emotional connection with craft brew lovers.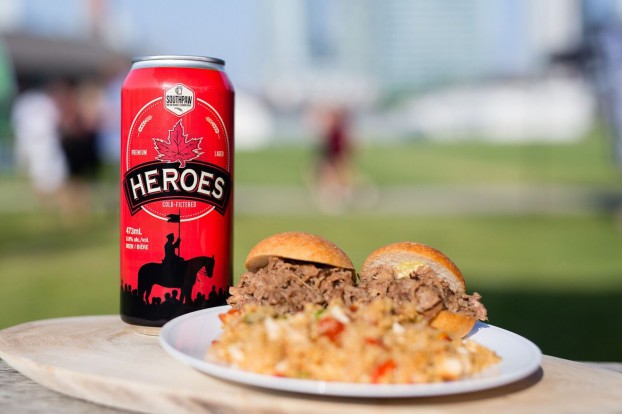 There are a lot of everyday heroes in this world to be celebrated, enough that Southpaw Beverage company has launched its flagship brand in their honour.

The company – established last year and named for co-founders Murray Milthorpe and Greg Vallentyne's left-handedness – officially debuted its Heroes Lager brand last week.

Blonde lagers are popular in the market, giving Heroes a wide appeal to men and women between 25 and 50, says Milthorphe, co-founder and chief beverage officer. The flagship brand, however, is centred on the notion of celebrating the heroes around us (including armed forces members, EMS workers, police officers and firefighters), with the goal of creating an emotional connection with craft beer drinkers, he says.

That essence is captured in its package design, which capitalizes on Canadiana with a red background, maple leaf imagery, and silhouette of a soldier, with the goal of having an impact at retail, he says. The package design was led internally with the help of designer Darko Martinovic.

Strategic partnerships are a key part of Heroes' marketing strategy. That includes partnering with Wounded Warriors Canada, committing 10% of its profits annually to the veterans support organization (with other packaging and promotional partnerships to come).

Culinary partnerships will also be key. At its launch event at Toronto's Fort York last week (a nod to the heroes concept) and at sampling events to come, the brand has teamed up with chefs to show how the beer can be leveraged in recipes and paired with food.

Heroes is meant to be a flagship brand for Southpaw, with potential to expand into other non-beer categories (such as ciders) within the next two to five years, Milthorpe says. The former General Mills, Kellogg's and Cara Foods marketer likens it to the Cheerios brand's equity across its product types, especially in terms of emotional connection.

Heroes is currently available in roughly 320 LCBO stores in Ontario, along with some grocery retailers. The brand is brewed by Cool Beer Brewing and distributed by ColdHaus Direct. Heroes is working with Carlaw Communications for PR support.