Adidas wants to join your run
The athletics brand created new free-to-join running groups in Toronto and Vancouver in a bid to reach a "hugely important" demographic.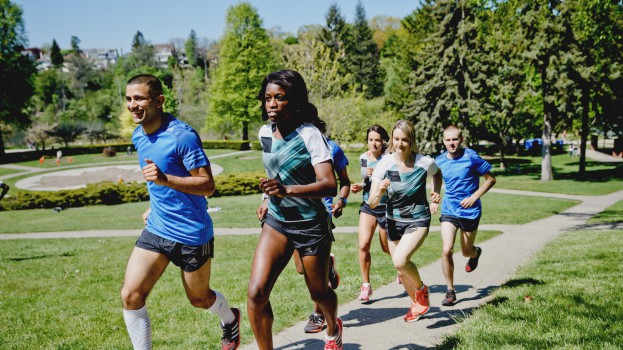 It's not every day a brand asks you to run away from it. But Adidas is hoping its new running groups will encourage folks to take a bit a of a jog while followed by Adidas-clad coaches and gear.

The Adidas Runners groups are kicking off in 30 cities around the world, including Toronto and Vancouver (with the possibility of expansion if the program is successful).

It's free to join (separating it from other running groups), and participants don't have to purchase (or even wear) Adidas clothing, though there will be plenty on hand for people to test out, says Stewart Smith, VP marketing at Adidas. Coaches will help encourage participants to beat their goals, help prep for marathons, and even get personalized training plans. Consumers will be encouraged to connect and compare themselves online with their fellow runners worldwide through social channels to help them smash their goals.

Runners are a hugely important target demo for the brand, Smith says. The number of people who say they run is on the rise: according to Statistics Canada, more than 23% of Canadians say they participate, up from 14% in 2001.

The program taps into the increasingly popular running clubs that have been popping up in cities around the world, as well as the trend of runners to share their personal training online with friends and family. The end goal of the push, which targets young urban runners, is also to create a unique brand experience.

"It get us right in touch with the end consumer," he says. "But in the end, the consumer is making the choice. It's not imperative that consumers who participate and interact with these runs have to wear Adidas. That's not what this is about. We're exposing them to the brand and giving them a fantastic experience."

The entire push is an organic marketing effort, he adds: consumers are the ones telling their stories (with Adidas acting as the facilitator). Even marketing efforts to promote Adidas Runners will be largely organic, living on the brand's social channels, starting end of June.

Adidas Runners launched in Toronto at the beginning of June, while Vancouver's version will launch mid-July. The trainers have been contracted until the end of the year, so the program can potentially run right through the end of December (though that will largely depend on interest and weather).