Cannes roundup 2016: Canucks nab 16 Lions so far
Plus, Canada makes a strong showing on the Film and new Entertainment shortlists.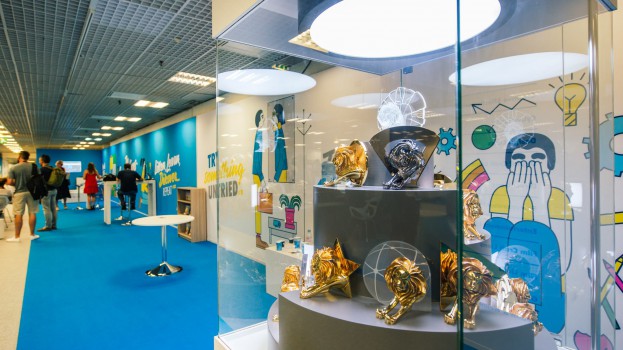 Canadians are building some momentum, with 16 Lions now awarded and 19 more shortlist nods added this morning for work coming out of the country.
On Wednesday, Jam3, Leo Burnett Toronto, Touché!, BBDO Toronto and MediaCom were among the agencies awarded Lions for campaigns in Cyber, Creative Data and Media, bringing our total to 16 Lions.
Then today, Drake's "Hotline Bling" music video was among the shortlisted campaigns in the Entertainment Lions for Music. In the Entertainment category, Canadian work received six nominations, while it picked up nine in the Film category. The Entertainment Lions winners will be announced Friday, with Film to follow on Saturday.
DDB Canada's president and COO Lance Saunders questions why we're giving so much thanks to creativity in this year's festival, why "Effectiveness" is even a category (shouldn't all ads be creative and effective, after all?) and  leaves you wondering if hard work and effort are the badges the show is actually doling out.
Elsewhere in this festival, Unilever announced it was going to try and strip out gender stereotyping from its ads after repeated studies have found it's not an effective way of reaching its end target.
In case you missed it, here are the links to shortlist and winner coverage:
Friday: Canada nabs five Health nominations (Health)
Saturday: Ladyballs takes a Silver Health Lion
Sunday: Canada picks up 26 shortlist nods (Promo, Print, Glass)
Monday: Canada gets 28 more shortlist mentions (Design, Digital Craft, Outdoor, PR)
Monday: Canada brings home six Lions (Radio, Direct)
Tuesday: Canada gets 19 more shortlist noms (Creative Effectiveness, Creative Data, Cyber, Media)
Tuesday: Leo, Grey, Critical Mass and Canada Goose pick up Lions (Design, PR, Digital Craft, Outdoor, Product Design, Creative Effectiveness)
Wednesday: Jam3 wins Cyber Gold with MTV (Cyber, Creative Data, Media, Innovation and Mobile)
Thursday: 19 shortlist spots for Canada (Film, Entertainment for Music, Entertainment)
Here's the list of winners so far this year:
Health: 1 (Silver)
Radio: 5 (Bronze)
Direct: 1 (Bronze)
Cyber: 3 (1 Gold, 1 Silver, 1 Bronze)
Digital Craft: 1 (Bronze)
Design: 1 (Silver)
PR: 1 (Bronze)
Promo & Activation: 1 (Silver)
Media: 1 (Bronze)
Creative Data: 1 (Bronze)
Creative Effectiveness: 0
Print & Publishing: 0
Glass Lion: 0
Product Design: 0
Mobile: 0
Innovation: 0
And here's the Canadian shortlist tally for 2016 so far:
Design: 14
Film: 9
Cyber: 8
Direct: 8
Radio: 8
PR: 6
Promo & Activation: 6
Media: 6
Entertainment: 6
Creative Data: 5
Print & Publishing: 5
Health: 5
Outdoor: 5
Entertainment for Music: 4
Digital Craft: 3
Creative Effectiveness: 1
Glass Lion: 1
Mobile: 0
Product Design: 0
Pharma: 0
Featured image via the Cannes Lions International Festival of Creativity Facebook page.