Delivery wars: Urbery bets on trust
How the grocery and alcohol delivery co is building its customer base and partnering with CPGs to create customized programs.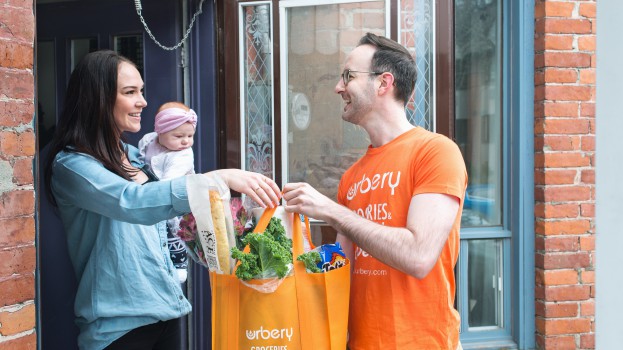 When Mudit Rawat left his job as manager, corporate strategy at Sobeys to create grocery, pharmacy and alcohol delivery service Urbery back in 2014, his idea was originally centred on convenient delivery for busy millennial urbanites.
Over the past year – as Urbery leaves beta and delivery apps and click-and-collect programs become more ubiquitous – speed has been just one of the Toronto company's requirements for growth, with better experience, driven by data, now being its area of focus.
Urbery's main point of differentiation has been its "Grocery Gurus," essentially personal shoppers who pick up and deliver items on customers' shopping lists from supermarkets, drug stores, the LCBO and The Beer Store, and then deliver the same day.
Trust – or lack of it – has been one reason grocery delivery hasn't picked up more quickly, Rawat says, and the "Grocery Guru" role aims to address that.
The startup is now seeing revenue growth of nearly 40% month-over-month, with a user base in the "tens of thousands" (it plans to expand outside the Greater Toronto Area next year).
Much of that is due to customers filling their entire cart, from fresh groceries to CPG to alcohol. Roughly 20% of its orders now include alcohol, but that's mainly part of weekly planning, such as a bottle of wine for dinner, and not just for large orders (a key point, given the LCBO has just introduced its own e-commerce platform and home delivery), he says.
At launch, Rawat and his team were sure the service would appeal most to millennials, but it's become clear that the busy, 28 to 45 group is actually the one using it most (it's also built up a customer segment of corporate clients who have deliveries to their offices).
Now, Urbery is working on translating its valuable customer data into marketing programs for major CPG partners.
So far it's launched pilots with companies including Unilever and Kimberly-Clark Canada to do fairly basic discounting of certain products at check-out, to pair with what the shopper already has in their cart.
Going forward, the goal is to create more customized, content-driven programs based on shopper data. For example, if Urbery can identify that a customer is a vegan based on their cart, they'll create customized communications for related products and recipe content from brands that would appeal to that particular customer.
Those types of more customized programs aren't far off for Urbery, he says. Promotions are currently being served to shoppers through email and mobile push notifications (Urbery is experimenting with landing pages for brands but doesn't have in-app ads at this point).