Whistler shakes out the cobwebs
A summer campaign for the Mountain Bike Park says if you're not biking, you might as well be asleep.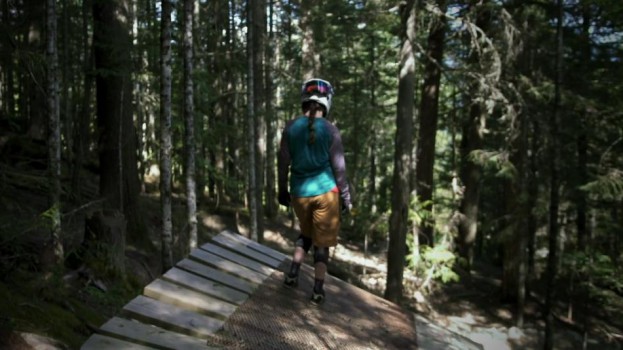 Whistler Mountain Bike Park has shifted its marketing approach to make messages around basic things like operating hours seem exciting to hardcore riders.
This summer, the mountain biking destination has been releasing videos as part of a "Sleep Later" platform. It began with the "Truly Awake" anthem spot, which takes images of biking through the park and juxtaposes them with other exhilarating moments, like travel, romance and other action sports.
"It communicates this feeling that when you're in the bike park riding, your experiences there are similar to other experiences in life where you have this heightened sense of being truly awake," says Mike Crowe, brand and content marketing manager at Whistler Blackcomb. "We wanted a way to compare biking moments to real-life moments and ultimately send the message that if you're doing anything else besides the park, you might as well be asleep. To be your full and best self, you have to be here."
The park has been working with Vancouver's Good Fortune Collective on the campaign. Whistler Mountain Bike Park is operated by Whistler Blackcomb and it had previously worked with Blackcomb's agency of record Origin Design and Communication on advertising and branding, before the business was separated from the rest of the mountain and awarded without a formal review to Good Fortune last fall. Crowe says that was due in large part to previous work in the mountain biking space, namely equipment company RockShox.
Since the initial spot, other videos have been rolling out that take the "awake" messaging and apply it to other elements of the park as they become available to riders. A spot called "20 Hours" came out before the park moved to its summer hours, when riders could conceivably bike for 20 hours over the course of a weekend. "Brunch" was released ahead of the opening of the Top of the World track, which operates from 11 a.m. until 4 p.m. (peak hours for brunching).
"In the past, the way we promoted the park was very high level and broad," Crowe says. "It's been a change where we've developed insight into who our riders are and a campaign that speaks to tactical things like specific business times and offers to drive visitation, but does it in a way that's relatable, so core riders can not only understand it, but get excited about it."
Earlier this month, the park launched "Trail Engaged," an online suggestion box where dedicated riders could offer feedback directly to management. In the near future, videos and content based on those suggestions will be released to re-engage the visitors that submitted them and show them that their voice was heard.
Reaching out to those die-hard, downhill mountain bikers has been the main goal of the new marketing approach.
"Our brand needs be relateable to people who define themselves as a downhiller," Crowe says. "They are the most finicky and opinionated. We felt we needed to take a different approach and really focus on that, but at the same time we want to develop a platform that won't alienate a new rider from wanting to try the park for their first time."
The videos have mostly been pushed online through Whistler Mountain Bike Park's social channels and on action sports site Pinkbike, while 30-second cuts have aired during live online broadcasts of the Crankworks mountain biking festival and Red Bull's Joy Ride event. Because it is such a niche market, the park does not do a great deal of traditional advertising, instead choosing to be highly targeted online, where that rider is engaged.
"The amount of rider visits for the bike park is not even comparable to the number of skiers who come in the winter, but the amount of Instagram followers the bike park has is way more than the main mountain," Crowe says. "When it comes to a social following, the people who are interested in the bike park are more loyal and dedicated."