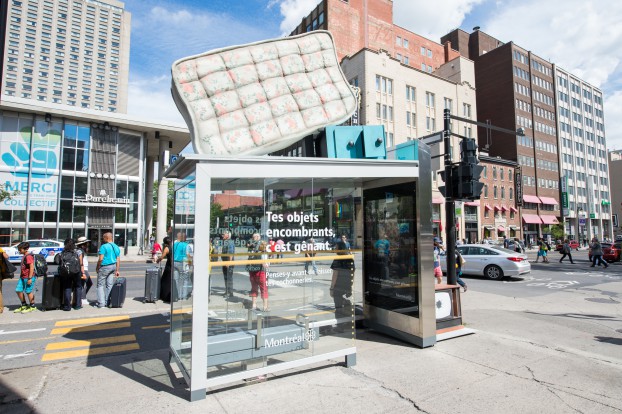 By Bree Rody-Mantha
In an effort to create more awareness around public cleanliness, the City of Montreal has deployed an out-of-home campaign that has seen five local bus shelters covered in some unconventional decor — including a giant pile of dog feces.
The displays, which also include old furniture, cigarette butts and fast food trash, plus messages such as "Tes objets encombrants c'est gênant" ("Your bulky clutter is annoying") on the front and back of the shelters, went live Aug. 29 and will remain standing until Sept. 26.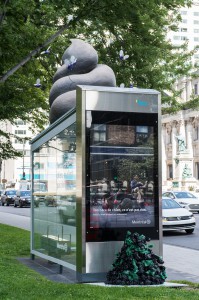 This is the final phase of a city campaign, which began in July with print and billboard messaging, to get citizens to become more aware of their responsibility to eliminate waste.
The creative was managed by Quebecor while Cossette Media handled media. PR and social were done in-house by the City of Montreal.
Claude Foisy, VP of OOH for Quebecor, told Media in Canada that the total use of the shelters (all of which are located in downtown locations, near parks) made this campaign unique from any other OOH campaign Quebecor has done.
"You have the creative on top, you have creative on the ground in front of the shelter, and at the same time you use the internal and external faces of the shelter," he said. "You are surrounded by the message, which is about a problem that surrounds us."
Quebecor and the city also chose to use the informal second-person pronoun "tu" (as opposed to "vous") in order to create a more familiar, personal tone in its efforts to break old habits.
"With a campaign that is so visible and so in-your-face, we wanted the message to speak to individuals, rather than to people in general," said Foisy.

He added that since the goal of the campaign is to create social awareness and not to translate into sales or event attendance, its effectiveness can be hard to track. However, he said Quebecor placed several employees (which he referred to as "mystery shoppers") near the shelters at the time of launch to observe feedback.
"There were definitely people not just talking about it but taking pictures," said Foisy. "It's a stunt, yes, but it's an effective stunt."
From Media in Canada