Steam Whistle pays homage with packaging
The beer brand introduces a new limited-time "Retro Lunch Box" for its tall can format.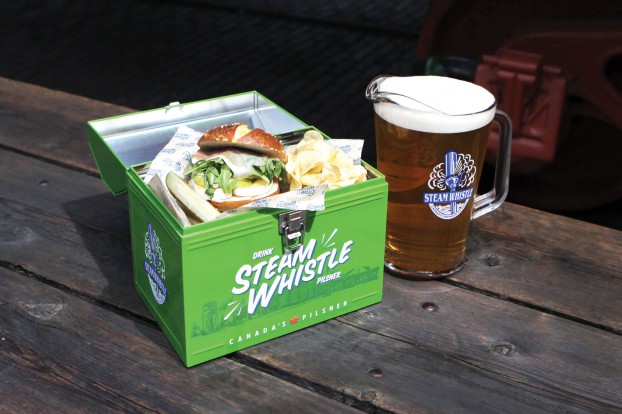 Steam Whistle Brewing has gotten nostalgic with new limited-time packaging for its 500 ml can format.

This month, the brand is introducing a "Retro Lunch Box" six-pack design at its own retail store in Toronto and LCBO locations across Ontario.

Industry trends show consumers are opting for cans, so Steam Whistle wanted to address that and also evoke the retro feel and aesthetics the brand is known for, Bromlyn Bethune, director of marketing and sales for Steam Whistle Brewing told strategy via email.

The idea was to pay homage to the 1940s and 1950s' hardworking ethic, with Steam Whistle aiming to bring that end-of-workday satisfaction to the modern customer.

"When you only brew one beer you need to find innovative ways to engage existing and new consumers," she says. "Beer should be fun and we really wanted to play up our retro appeal with a play on the golden era when things were built to last and there was a relationship of trust between manufacturers who produced quality goods and consumers who eagerly awaited genuine results."

The packaging is meant to accommodate the taller can size and weight while also making transportation easy.

The target is male and female consumers between 25 and 35 who are looking for a premium beer, gifting ideas or like to collect retro beer memorabilia.

Along with the packaging itself, Steam Whistle has developed a custom merchandising tray highlighting the "Retro Lunch Box" on its own so shoppers can see the design from all angles and so that the product can be stacked at the LCBO.