Medecins Sans Frontieres builds a connection
A new online push draws a more direct link between donations and its work.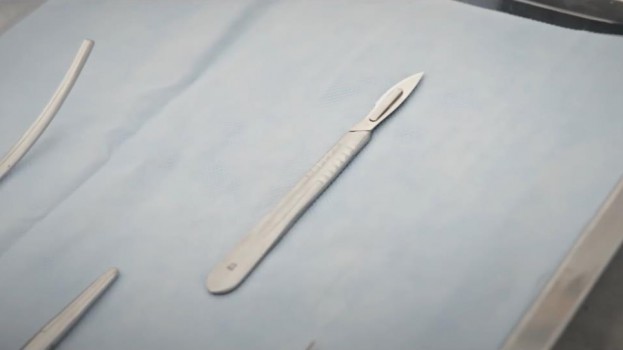 For Médecins Sans Frontières (Doctors Without Borders) Canada, 80% of its annual funding comes from private donors. The organization is choosing to spotlight how important the support of regular Canadians is to the work it does in the new "Scalpel" campaign.

In a new online video, we see an MSF doctor providing emergency medical care during a humanitarian crisis. When she asks for a scalpel, it begins a long chain from the medical tent, across the country and eventually to a home in Canada, where picking up a pen to make a donation gets that scalpel into the doctor's hand.

John St., the organization's AOR in Canada, led creative on the campaign. The film will be pushed online and through social media platforms, and the campaign will also feature a print component.

Isabelle Jeanson, director of communications at MSF Canada, says the idea behind the campaign was to be very direct about the link between donations and the medical work the organization does to drive awareness around its mission.

"We've been in Canada for 25 years, and what we realized is a lot of people have heard the name over that time, but might not know a lot about us beyond that," she says. "People might know that we're doctors and work internationally, but there's no deeper connection with our work, or how their donations support it."

Jeanson adds that this is the first mass digital campaign MSF has done, having previously experimented with banner ads last year to see what kind of response they would get and test the waters for a larger online push. "We may do this as a PSA on TV eventually, but most of the audience is getting to know us through online means," she says. "It's where they're consuming their news and learning about the areas of the world we're working in, and there's more opportunities for interactivity to link them to that kind of information."

While the video ends with someone making a cash donation, the campaign is less about fundraising and more of a general awareness push.

"We're not just trying to appeal to potential donors, but all Canadians that might have something to contribute to our profile internationally," Jeanson says. "We want to talk to Canadians so they will get to know us a little bit better and discover they might have something else to offer us. That could be a student interested in international work or doctors looking for new challenges or financial planners who make what we do possible. Support can go beyond the donate button."

Jeanson says the video focuses on medical work, because that is at the core of the organization's mission, but a microsite for the "Scalpel" campaign shows the broader scope of what it does, from rescuing passengers off sinking boats to water sanitation to therapy, nutritional and mental health programs. It also shows the range of people beyond medical staff that MSF is looking to work with, like sanitation experts.

She also adds that the fall was the best time to launch the campaign. The organization has found that engagement with its online and social media channels sees an uptick around the back-to-school season, but before the holiday season, when the amount of non-profits seeking donations increases and standing out becomes much more difficult.