ICA debuts new brand identity
The refreshed visuals, created by Sid Lee, will be deployed across all of the organization's initiatives.

The Institute of Communication Agencies (ICA) has unveiled its new branding, with a refreshed visual identity meant to emphasize the organization's presence in Canada's advertising and marketing community by unifying its various initiatives.
Created by ICA member agency Sid Lee, the new identity retains the organization's existing colour scheme, but uses a bolder typeface in all caps. The "three squares" of its previous logo have also been flattened and put into a single, gradient-style box.
The new logo, its colours and the "by ICA" mark have also been incorporated into the visual identity for all ICA-run events and initiatives, which include Future Flash, CAAP, Ad Women of Toronto, Next Generation Day, Agency Search.ca and FFWD Advertising and Marketing Week, among others.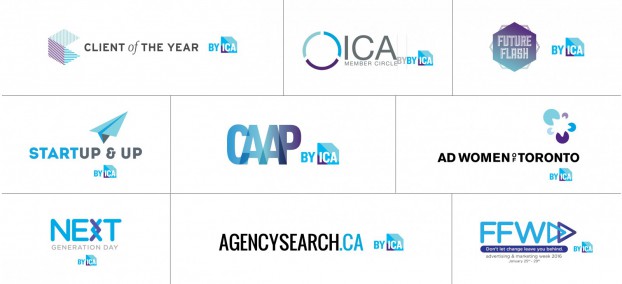 "We wanted to create a unified branding system for the ICA that put us front and centre," Gardenia Flores, director of digital marketing at the ICA, said in a press release. "Sid Lee's new brand identity system clearly identifies all of our many initiatives as being ICA-led and -driven, which will ensure consistent and impactful branding to help the ICA underscore its valuable role within the industry."
"We wanted to unify the ICA brand with a visual mark that is clear, simple and easily recognizable across all the ICA initiatives and the individual sub brands identities," added Penny Stevens, president of Media Experts and 2016 ICA Board Chair and president. "This visual consistency and coherence across all initiatives signals to members and the industry the ICA quality assurance."

The ICA last had a rebranding initiative in 2007, which was handled by Cossette (the organization's previous logo can be seen to the right).

Earlier this month, the ICA announced that Scott Knox, previously the managing director of the U.K.'s Marketing Agencies Association, would be taking over as the organization's president and CEO on Nov. 1. Knox will be taking over from previous president Jani Yates, who became president and CEO at Advertising Standards Canada in the summer, and previous CEO Gillian Graham, who stepped down from her role in July.