Ikea is Swedish for…
As the retailer celebrates 40 years in Canada, we walk through the brand's colourful evolution and look at what made it twinkle.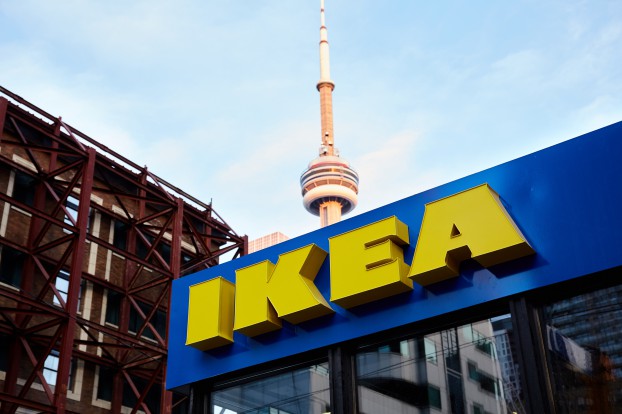 This article appears in the October 2016 issue of strategy.

Like its furniture, Ikea's brand required some assembly.

Made famous by its quirky humour and affordable furniture, the brand has been growing its business one room at a time. The Swedish retailer has moved more than $1.8 billion worth of furniture in Canada, capturing 8.8% of the market, according to Fusion Retail Analytics. More than 26 million Canadians visited the retailer in 2015, where they gobbled up more than 1.4 million meatballs and 3.6 million hot dogs.

But, as any couple trying to assemble a Poäng chair will tell you, it wasn't always a smooth trip. The retailer spent decades working to overcome the stigma of being seen as cheap. It did so by grounding its advertising efforts in a deep consumer insight around how it can play a role in every room of the house.

Now, as it celebrates its 40th anniversary this fall, Ikea has shifted its thinking: it's no longer about building the brand one room at a time through zany humour and product-focused advertising, marketing manager Lauren MacDonald says. Rather, it's connecting emotionally with consumers around what makes people feel at home through anthemic mantras.

And it's working: the brand tracked 10% sales growth between 2014 and 2015.

A journey through Ikea's past shows how it built its brand using quirky advertising, a deep understanding of what makes it different and a boatload of Allen keys.

Ikea is Swedish for knock-down furniture

According to Elen Lewis in the book Great Ikea!: A Brand for All The People, the retailer's founder, Ingvar Kamprad, got his start in a fish market, selling the foodstuff (although, some accounts say matches) to neighbours from his bike as a child. He graduated to pencils and wallets in 1943 and then to furniture in 1948. The entrepreneur named his company Ikea, amalgamating his initials with those of the farm (Elmtaryd) and town (Agunnaryd) in which he grew up.

His philosophy was simple: sell egalitarian, well designed furniture that's not prohibitively expensive. In Sweden and throughout Scandinavia, the brand quickly gained popularity; in Canada, its first destination across the Atlantic, it was a rocky start. Ikea opened its first franchise store in Nova Scotia in 1975 (technically making this year its 41st anniversary, but the location shut down 13 years after opening and now Ikea corporate doesn't consider it the brand's official start here).

According to a 1985 report in the Globe and Mail exploring the brand's first 10 years, the franchise model (a first for Ikea, which until then had opted for a centrally-owned model) did not bode well. While it quickly became a popular shopping destination in eight cities, it was plagued with stock issues and the stores often looked like they were "in the business of selling pine shelves – because the shelves were empty," the article said.

The joke, retail consultant Ed Strapagiel says, is that Ikea was Swedish for "out of stock" (a play on one Canadian campaign that said "Ikea is Swedish for 'Common Sense'"). That perception would limit the brand well into the '90s.

When Ikea HQ bought back the eight Canadian stores, a huge effort was made to fix the stocking issues and change the way its wares were displayed, with top decorators brought in from Sweden to give the showrooms a facelift. Advertising increased and prices were lowered. Early campaigns were largely print-based and started the trend of pun-heavy headlines ("Ikea has gift ideas yule love"). They also made great use of the Ikea Viking, a stick figure with a large nose and the stereotypical horned helmet.

By 1985, the brand had increased distribution of its catalogue (a mainstay of the Ikea marketing plan around the world) to 3.5 million copies a year, up from 300,000 in 1979. That year the retailer did more than $100 million in sales (fast approaching its nearest competitor The Brick, which did approximately $125 million in sales across eight stores), up from a mere $29 million five years earlier.

A big factor in Ikea's success was that boomers, the largest cohort in the country, were in the process of starting their own homes. Ikea not only offered fun, inexpensive furniture, but the branding resonated with the target. One of its earliest TV campaigns by McCann Erickson, which would go on to win a top award at the Bessies in 1986 (the first time for a retailer), set the tone. The campaign starred a man named Ingemar, speaking in Swedish with English subtitles. He introduced Canadians to the vast array of products (and their low prices), while riding around on a conveyor belt. The quirky commercial endeared Canadians to the brand, says industry vet Geoffrey Roche, who worked on Ikea through much of the '90s at Roche Macaulay.

But with its heavy focus on first-time Canadian home owners, Ikea also developed a reputation as a cheap, knock-down furniture store, says Susan McGibbon, who joined Ikea in 1990 (she would go on to lead the advertising team until 1998).

At the time, this image wasn't an issue for the brand. Knock-down furniture had its appeal, and as one Globe and Mail article from 1987 put it, the price, for the design and the quality, couldn't be beat. It was a great alternative to the higher-end stores. But, the piece posited, while it was a great store for a first home, it didn't pass the test of time as consumers moved into their second.

Ikea is Swedish for growing up

This analysis proved accurate. In the 1990s, McGibbon says, the decision was made to elevate the brand and strip away the cheap pine furniture reputation.
Marketing efforts didn't do much to change that perception, she says. The black and white stick-figure ads did nothing to show off the array of furniture, while those that did run in colour tended to focus on its pine wood (reinforcing the "cheap" perception).

The goal was to get people to see how beautiful Ikea furniture could be in consumers' homes. TV played a dramatically bigger role, as did full-sized, beautifully laid out magazine and newspaper ads.
For ads from Roche Macaulay, which won the account in 1991, set designers and interior stylists decorated different rooms in the home to showcase Ikea furniture. This was the first time the brand had played up beauty in its advertising, McGibbon says.

"We needed to trick people," Roche adds. "I wanted people to look at these rooms and think 'Oh my god, that's such a beautiful room.' And then, [have them ask], 'Oh my god, that's Ikea?'"

Headlines and copy maintained what McGibbon calls the "Ikea twinkle," a nod and wink to its frequently used pun-heavy humour. TV ads also started to put Canada on the map globally for the Ikea brand.
One commercial produced by Roche Macaulay featured Ingemar driving a Volkswagen Beetle stacked with boxes and unable to pass under a bridge. It was picked up around the world and "went gangbusters," Roche says.

The brand was making great headway in changing consumer perception in Canada, becoming one of the country's favourite furniture destinations. The majority of customers were willing to drive 20 minutes to reach their nearby Ikea (most people were only willing to drive 15 minutes to other stores like Canadian Tire and The Brick, according to a 1995 survey from Kubas Consultants). But in 1997, the decision was made to consolidate marketing efforts out of Pennsylvania, tapping into the U.S. team's talents.

While the brand remained active during this stage, sharing a brand positioning (including the memorable, Spike Jonze-directed, Cannes Lion-winning "Lamp" spot from Miami-based CP+B in 2002), Canadian sales stagnated, with ads no longer connecting as effectively.

Ikea is Swedish for quirk

In 2004, the Canadian arm of the retailer acknowledged that its marketing might be better served at home. It repatriated the branding team to its Burlington HQ and hired Zig as its AOR.
It marked the start of a reinvestment in the brand in Canada. The retailer committed to four more locations and took on previously difficult categories, such as mattresses (Canadians liked coil mattresses, Ikea sold foam) and kitchens (it was considered cheap, and not kitchen reno-worthy).

It also marked a creative high point in the brand's history. With Zig, Ikea rolled out some of its most iconic campaigns, including the 2008 pop-culturally relevant (at the time) spot featuring a pair of pop-and-lockers from So You Think You Can Dance; "Rug" in 2004, which promoted Ikea's delivery service by having someone driving around with a rug sticking out of the car knocking people over during important moments; and, of course, "Start the car!" featuring a woman who believes she just ripped off Ikea because the sale price was so low.

"The reason everything worked so well is because everyone [at Ikea] understands their brand so well," recalls Shelley Brown, chief strategy officer at FCB and former president of Zig.

Subtej Nijjar, a former account director for Ikea at Zig who's now president and partner at Union, concurs. Everything Ikea did was rooted in a deep consumer insight, he says. For "Start the car," for example, consumers believed the prices were so good they were practically stealing from the retailer. (The spot was picked up in 12 countries and ran for a number of years after its initial airing.)

To help the brand get over its "cheap" stigma, every ad dove deep into its offerings, focusing on a single room or product, with the goal of getting Canadians familiar with what Ikea carried, Nijjar says.

The catalogue remained a key ingredient for the brand during the '00s, covering roughly 80% to 90% of the total population, he says. (Since the majority of the 12 Ikea stores were in major urban destinations, people outside these centres only interacted with the brand through the catalogue.)

The company also dove into digital, Brown adds, experimenting with new formats, such as its first online catalogue, with consumers invited to take a photo of their favourite pages and upload them to the brand's website for a chance to win the items on the page.

By the end of the '00s, Ikea had solidified its place with Canadians, but brand awareness began to flatten as it faced increased competition.

Ikea is Swedish for the whole home

With this backdrop, Ikea decided it was time to pivot, says MacDonald, who joined the team in 2014. Canadians were familiar with the brand, and the previous focus on style and price (Roche's "I can't believe it's Ikea" philosophy) wasn't necessary anymore.

Rather than just focusing on single rooms, it was time for Ikea to own the whole home. The brand continues to pulse out marketing geared at specific rooms and products based on its retail calendar, but there's been an increased focus on building out a brand that can emotionally connect with consumers.

In 2011, Ikea brought on Leo Burnett as its AOR and Jungle Media for media buying, and toned down its quirky voice. Its first major brand campaign under the "Long Live the Home" philosophy was more anthemic, a mantra to rally consumers.

This evolved into the "House Rules" campaign, which featured Ikea's first consumer-generated content. Canadians were asked on social media for their house rules (such as don't flush the toilet when someone is in the shower), which were later incorporated into a second phase of the campaign. Its most recent campaign focused on all the important moments people experience at home.

Families spend less time at home than ever, MacDonald says. While some might construe that as life at home becoming less important, she says it makes those minutes more special. To tap into that insight, in 2016 the brand introduced "Every Second" to showcase special moments – from brushing teeth to playing with kids – one second at a time. It followed up with another user-generated campaign that used footage from consumers' home life in a similar montage.

While the big brand campaigns are less quirky than past work, the twinkle shines through in experiential executions like the award-winning "Moving Day" campaign and "Human Coupon" program (people presented themselves as "coupons" valid for 60% off their purchase in-store).

The shift to emotional marketing worked. The brand has seen a 15-point increase in sales since the 2011 repositioning, as well as a 40% increase in online sales.

Despite the shift in tone, Nijjar (who did not work on the recent campaign) says the brand's inherent identity remains. "You could never just swap out the Ikea logo and put another brand in [and say] 'That makes sense,'" he says. "There's always an Ikea-ness to the work."

Ikea is Swedish for evolution

For its 40th anniversary, the brand is pivoting again. At press time, the team was creating a new brand campaign to better explain Ikea's "why" – that is, why it creates products the way it does; why it wants to be an affordable, well-built brand; why it's the brand for many.

"We're confident Canadians really understand the 'What,' but we've never told them the 'Why,'" says MacDonald.

The campaign will delve into the brand's democratic design process (the way it approaches design to achieve the right combination of form, function, quality and sustainability at a low price) with a new commercial spot, which launched in September. The campaign is a kick-off to the catalogue, peppering in images from the original 1976 catalogue ("Everybody loves a good throwback," MacDonald says).

To further celebrate its 40th anniversary, the brand is launching a pop-up museum at its Toronto flagship in early October that explores its evolution.

This fits with the broader demand for transparency: customers want to know more about brands – where the products come from and whether companies are acting with integrity – and the 40th anniversary provides a great opportunity to tell that story, MacDonald says.

Ikea is also increasing its footprint, doubling its locations over the next decade and opening across the country, including a return to Halifax. This is part of its mission to increase accessibility, be it through new warehouse locations or pick-up and order points (six small locations in smaller towns where consumers can order from the catalogue or online).
"We're really focused on making it as easy to shop Ikea as possible," MacDonald says.

That's not to say there aren't challenges: consumer confidence is on the decline generally, and in-store visits are still a factor in Ikea's success strategy (online furniture ordering hasn't picked up as quickly as other less expensive categories: people like seeing the furniture before they buy it).

Several people who have worked with the retailer say that Ikea's strength lies in its ability to understand its own brand and that its marketing is driven by strong consumer insights.
Considering the retailer's significant growth throughout its four decades, it's probably fair to say that today, Ikea is Swedish for success.