Strategy's Brand to Watch 2016: Reigning Champ
We look at how the made-in-Vancouver sportswear brand made a big splash this year.

It starts with the stitching. Reigning Champ's signature sweats all feature flatlocked seams with reinforced bartacks throughout. The clothing is famously simple but the brand prides itself on these arcane details that are equal parts ornament and necessity, style and strength. You would be hard-pressed to find a loose thread to pull from the garments made at its Vancouver factories.
It's a formula that's working for the West Coast brand, which launched in 2007 under CYC Design Corp (also the maker of the Wings+Horns fashion line). Since 2011, when marketing director Doug Barber joined the company and started a more concerted branding effort, Reigning Champ has gone from being stocked in 10 retailers – all independent boutiques, largely in the streetwear space – to roughly 300 stores (including Bloomingdale's, Nordstrom and J. Crew) on three continents.
The brand opened its fi rst store last year in Vancouver. It has two more coming to Toronto this fall and another opening in L.A. in 2017. Architect Peter Cardew designed the stores in a spare, locker-room style to match the brand's clean, simple aesthetic.
Reigning Champ's core is the same as when it launched, focused on sweats and fl eeces – the kind of gear you picture Rocky training in, Barber says. But it's added its Sea to Sky line, featuring water-resistant fabrics, and next year it will release the Performance line, a "true technical product" for today's athletes.
Its marketing has relied on specialty product collaborations with brands including Asics, Converse, Mitchell and Ness, and Club Monaco (for which it resurrected those emblematic crewneck sweatshirts most Canadians of a certain age remember fondly).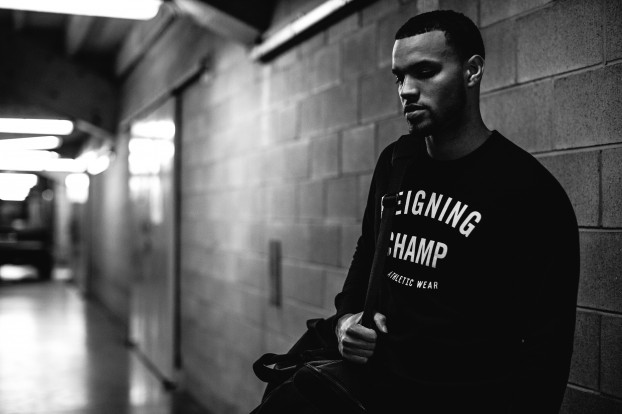 This fall, it will launch its most extensive co-branding project with Adidas, with several releases over the next two years. Some of the partners reinforce Reigning Champ's brand identity, Barber says, while others allow it to reach a new audience. "[They] bring different skillsets, different levels of innovation that we don't have ourselves, so it really gives us an opportunity to push the boundaries and do something that we wouldn't otherwise be able to do on our own," he says. With Asics, it was shoes; with Adidas, its first foray into women's apparel.

Its 2014 collaboration with boxing brand Everlast featured media help from No Mas, a multidisciplinary agency in New York, and from creative agency Doubleday and Cartwright, in a campaign featuring lush black and-white video and photos of the gear in New York City. Otherwise, Barber says, all the marketing has been in-house, with only a half-dozen people working on the brand.

Most of their energy goes to social media, where Reigning Champ has a loyal audience (almost 58,000 Instagram followers) and attention from online outlets Hypebeast and Highsnobiety. It also leverages personal relationships with infl uencers across the sports and arts scenes, and has a strong programmatic ad game. But Barber says the marketing comes back to what they make. "With Reigning Champ, as long as we build a really good product, we'll have a loyal consumer," he says.