VH's saucy fall push
The ConAgra brand shifts investment to the beginning of the main consumption season with two new campaigns.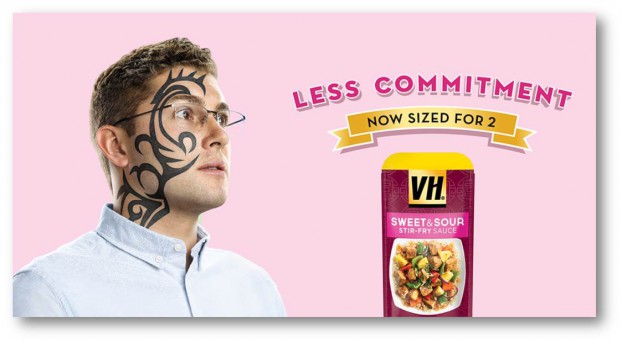 ConAgra Foods Canada is making a big push with VH Sauces this fall, with two new campaigns, including one focused on millennials, a new target for the brand.

Overall, the move marks VH's shift in investment from marketing in winter to the fall, the beginning of the main consumption period for its products, says Julia Hupalo, brand manager at ConAgra Foods.

One campaign this fall, targeted at millennials, is centred on its pouch products, first introduced last year and expanded to include a "perfect for two" type this year. The demographic is a secondary target for the brand, and a fairly new one, as it didn't have products in its portfolio that worked for millennials until now, Hupalo says.

The millennial-targeted creative is centred on the idea of "Less Commitment," with cheeky ads juxtaposing the VH pouches with some pretty heavy decisions (like a Mike Tyson-esque face tattoo).

Generally, the demographic has an issue with waste, so the idea was to position pouches as an alternative to half-empty bottles taking up space in the fridge, Hupalo says.

The campaign will be promoted at key retail partners (including Loblaws, IGA, Walmart and Metro) through targeted loyalty program offers, digital and sampling, and through OOH and social media, including on the brand's new Instagram account.

The other fall campaign is more traditional for the brand, focusing on its bottled products and targeting busy moms, its primary demographic. Going after the dinnertime dilemma, "Another clean plate victory" positions VH as a good option for getting kids to eat what's in front of them.

In a TV spot using humour, running in 15- and 30-second versions in English and French, two parents tell their dramatic tale of conquering the "reci-plea," those moments when your kids ask you to make a meal like someone else.

In-store, the campaign is being supported with a robust shopper marketing plan including dump bins, pennant flags, holographic tools, display-ready pallets, clip strips and meal solution tools, all using the "Another clean plate victory" messaging.

The campaign also includes digital and social support.

VH works with Extreme Group on creative, OSL on shopper marketing and Jungle Media.