Starbucks shares the spirit of the season
This year's holiday cups promote togetherness with 13 designs created by customers during last year's campaign.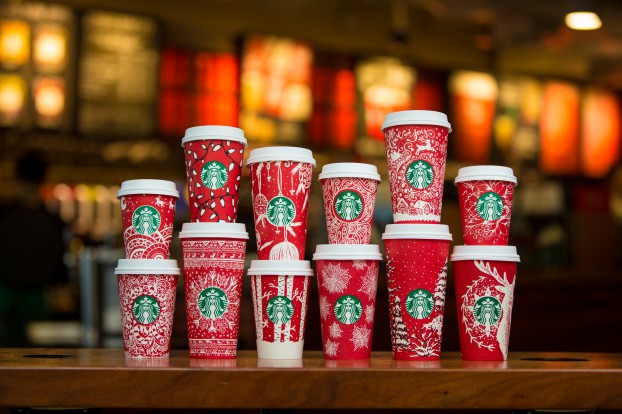 Seeing people carrying a red Starbucks cup is a sure sign that the holiday season is upon us, and this year the brand is getting its customers to share in the celebration with more than dozen designs created by customers.
Starbucks has released the holiday-themed "red cups" every year since 1997, but last year, the company's cups were plain red, and it encouraged customers to decorate them with designs of their own and share them on social media using "#RedCupArt." In eight days, the company received over 1,200 cup art submissions and Peter Bond, director of beverage and promotion at Starbucks Canada, says the response and the quality of the designs customers created made Starbucks realize there was potential to use the art in a meaningful way.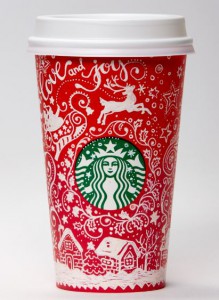 Starbucks selected 13 designs from six different countries, including two from Canada. One (pictured, left) was created by Anna, who immigrated to Canada from the Soviet Union and whose design was influenced by a Ukrainian folk art called petrykivka.
The other (pictured, below) was created by Erica, a paralegal living in Markham who celebrates both Hanukkah and Christmas. Her design was inspired by colouring in colouring books, something she was doing with her sister while she was recovering from knee surgery. One day, to switch things up, she moved from colouring books to doodling on her Starbucks cup.
Last year's red cups were met with a degree of controversy from a small-yet-vocal portion of consumers, who claimed removing imagery that specifically referenced Christmas was part of an ongoing "war" on the holiday. Last month, Starbucks released a green cup featuring a mosaic of people from around the world that was meant to promote togetherness at a time of extreme political divisiveness, but some misinterpreted it as being this year's holiday cup design and the controversy was re-ignited.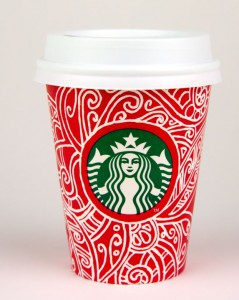 Though not specifically referencing either controversy, Bond says the main message behind this year's holiday cups – reflected particularly well in the stories of the Canadian customers whose designs were chosen – is of togetherness, no matter what someone celebrates.

He adds that Starbucks' holiday cups have become a signal that the holiday season is approaching, and being able to directly involve customers in that and reflect their different holiday stories is a "wonderful" opportunity from a brand perspective.

The company would not say if it had any broader marketing plans around this year's holiday cups within the Canadian market, though it has been teasing the return of the "Red Cups" across its social platforms for the past week. Yesterday, Starbucks posted this video formally announcing the return and explaining what made this year's red cups so special and communicating the message of togetherness.