Maxi ventures beyond the flyer
The Quebec grocer makes its return to mass advertising with a focus on fresh.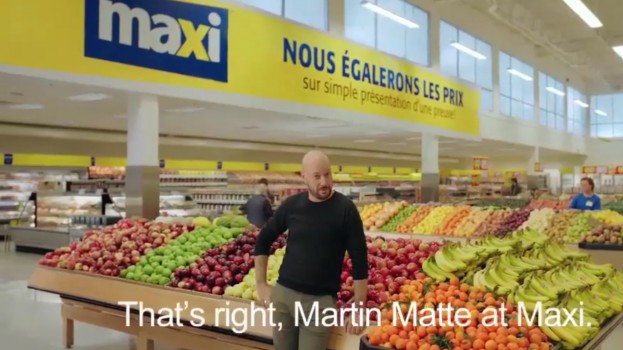 After a decade without a presence on la belle province's airwaves, Maxi launched a new ad campaign, aiming to show that the discount store can still feature the freshest products.

For the past 10 years, the Loblaw-owned store has focused on flyers promoting its low prices while other stores like IGA and Super C have rolled out more elaborate campaigns, says Catherine Viau, Maxi's senior manager of brand marketing.

"All our competitors are out there and here we are: crickets, crickets," she says.

The absence hasn't resulted in a loss in market share, where Maxi remains at the top for discount grocers, Viau says. But while the flyers do a good job of communicating price, the company wanted to reach out to potential new customers with a brand awareness campaign.

In June, the company selected Lg2 as the agency of record for Maxi and Provigo to help the Maxi brand "get back on air and have a big impact," Viau says.

The agency came back with the idea of using comedian Martin Matte as the new spokesperson. The first spot in what will be at least a two-year relationship opens with Matte in the produce section, delivering a version of the tagline that's repeated at the end: "That's right: Martin Matte at Maxi," he says in French. "Having a higher-than-average IQ doesn't mean you like paying more."

The spot was shot mostly in the fresh food sections to speak to non-customers about the freshness and quality of the store's products, Viau says, even while Matte plays the buffoon, smelling s steak and pitching it as "grain-fed Quebec chicken" and biting into a tomato after asking "have you ever seen a juicier apple?"

The ads (60- and 30-second versions) are targeting Quebecers, particularly women, in the 25-54 age range, and will run until the end of the year, with new ones coming soon after.  They're also circulating online with a new Facebook page. Radio spots launched this week. Dentsu Media handled the media buy.

In addition to the new spots, Viau said the company has invested in new manpower at its stores, in order to appropriately greet and serve the new customers it expects the campaign will bring in.