Cystic Fibrosis Canada picks its moment
The organization's first fully-integrated campaign uses real stories to show the impact of the rare disease.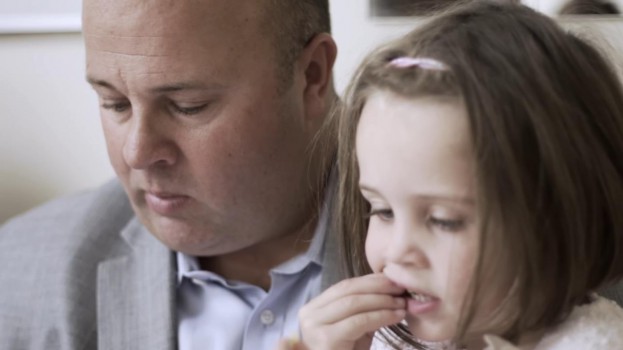 Cystic Fibrosis Canada is bringing personal stories of those affected by the genetic disease to the forefront of its marketing with its "The Moment We Knew" campaign.

The first video follows the Newell family, who had been told they would never conceive but finally had twin girls after working with a fertility specialist. Unfortunately, one of the girls, Faith, was diagnosed with cystic fibrosis, prompting her family to rally around her and her father Brandon to quit his job as a baseball scout to join the Cystic Fibrosis Canada team.

A second video tells the story of college sweethearts Charles and Meghan Eckensviller. The couple married and had three children, but Meghan had been living with cystic fibrosis, and passed away last winter at the age of 31.

Both videos are being pushed online and over social media during the holiday season. Cystic Fibrosis Canada worked with Toronto-based Grassriots on the campaign, with support from VivaMedia on producing the videos.

Cystic fibrosis affects the digestive system's ability to digest fats and proteins and to absorb nutrients, and also damages the lungs due to persistent infections and inflammations. It is a fatal disease with no cure, and children diagnosed with it in the 1960s rarely lived long enough to reach kindergarten, but advancements in research have meant 60% of the people with the disease now live into adulthood, with the median survival age around 52.

While only 4,100 Canadians have cystic fibrosis, roughly one in 25 carry the defective gene that could trigger the disease when passed on to a child. The goal of "The Moment We Knew" is to communicate to the general population the impact the disease has, outside of those who already know about it.

"We have a really passionate and strong core community that is very involved, but we're trying to branch out and tell those more universal stories to the rest of Canada," says Morgan Cadenhead, senior associate, digital and social media at Cystic Fibrosis Canada. "If you're not someone who has been impacted by cystic fibrosis, it's hard to even know what it is or what it means. We wanted to convey that it's a rare disease, but its reach is not and that it could walk into your life at any moment. That's exactly what happens to many of the families we work with, who know nothing about the disease until they meet someone or has a child that gets that diagnosis."

This is Cystic Fibrosis Canada's first fully-integrated campaign, having previously relied on direct mail and events to engage potential donors, as well as some organic social media communications. Over the past year, the organization has been growing its internal communications and digital teams, as well as taking a closer look at what it had been doing online and ways it could build on that. That is allowing the organization to examine engagement and conversion through search engine and social platforms, adjusting its investment to where its seeing the most success as the campaign runs.

"We've reached the point where we have the capacity to branch out and tell a more integrated story and push it out over various platforms, so the timing was just right" Cadenhead says. "We now have the tools that can give us deeper insights to adjust our strategy as we go, which has been helping us capture new revenue streams we haven't accessed before and shape our strategy into next year and beyond. It's taking stories we know resonate with a bigger audience and pairing it with the capabilities we need to have as a non-profit trying to reach people in 2016."

Direct mail is still an important part of Cystic Fibrosis Canada's donor outreach this year, but having more robust digital and insight tools will also help the organization better examine optimize the way that platform helps drive people to its online content or to donate.