Marketers of the Year: The candy man
How critical strategic thinking helped Dan Alvo drive local relevance for Wrigley's brands amid global budget pressure.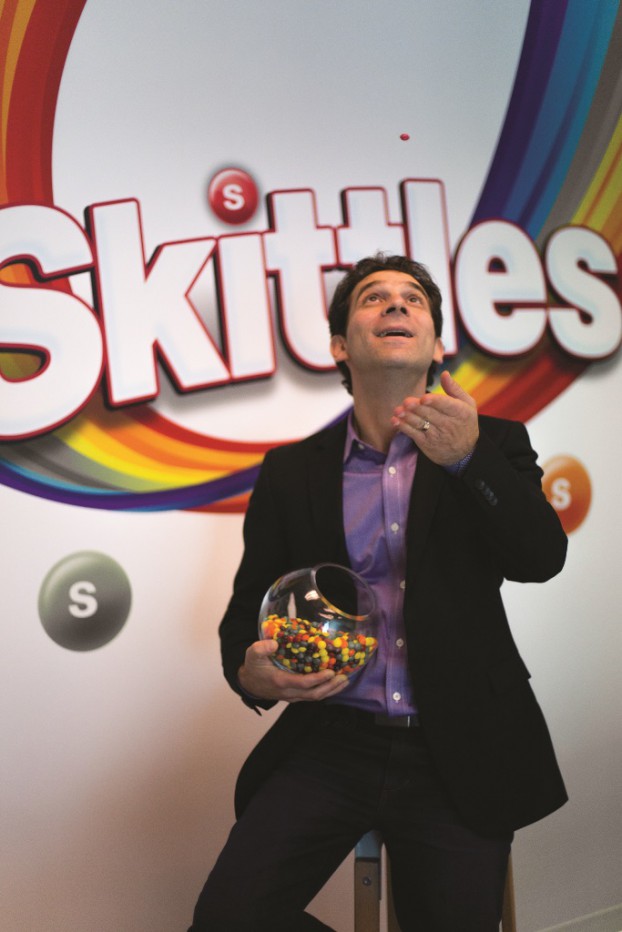 We're rolling out our Marketer of the Year profiles, diving into how six change agents each set new agendas for their teams, and came out swinging with a year's worth of success. Check back here for more later this week and next.

This article appears in the January/February 2017 issue of strategy.

Heading into 2016, Wrigley Canada was in a tough position. There was pressure from the confectionary company's global HQ to build candy and mint brands when it was already dealing with a declining gum category, its largest business. Wrigley was also cutting costs globally, closing its Toronto factory in March. And between transfers and downsizing, 65% of the marketing staff had changed over the course of the year.

In response, then-director of marketing Dan Alvo convinced the company in mid-2015 to allow the Canadian arm to break away from the U.S. office's siloed structure and combine its marketing, category management, trade and sales teams into a single unit.

While it was cost-cutting that provided an opportunity to push for those changes, Alvo says it was a way to address a persistent organizational challenge. In an ideal world, a company develops a product for a consumer need, and then sales teams sell it to retail partners, while marketing develops a support plan. But it doesn't always work that way.

"The challenge comes when you realize the teams all have different objectives," Alvo says. "You might have a brand person in charge of Juicy Fruit that's evaluated based on how successful Juicy Fruit is that quarter, but the salesperson down the hall gets evaluated based on how well they grow business based on a particular customer, regardless of the brand. What I tried to do was create a team that had similar thinking and was motivated around similar objectives, which is much more powerful."

Wrigley Canada helps its staff develop new skills by moving them between roles and departments. Alvo himself recently took on a new developmental role within the company, becoming director of sales to lead its Walmart business, with a hand in its shopper marketing. It's an important role for Wrigley, which sells products that are largely impulse buy items – and that impulse has waned. Alvo says the declines in gum and confectionery categories have been happening for the last few years in most major markets.

"We've slowed the decline, but we haven't seen the turnaround yet," he says, and that's up to the marketers. "It's not a sales or product quality issue; it's finding a way to make your products meaningful to the consumer again. At the store level, you overcomplicate things by trying to tell an entire story in a retail setting. When you're a mom with two antsy kids, you're not going to read a display on the benefits of a new mint. You need a quick reminder of a brand you're already familiar with because you've connected with its values somewhere else."

Just like many multinational CPGs, Wrigley relies on global adapts to save money. But his new, singularly focused team was able to examine which global strategies would bring meaning to local consumers, says Alvo. He has plenty of experience at multinational giants, beginning his career managing health and beauty brands at P&G before moving to food when he spent seven years at Kraft. He joined Wrigley in 2007.

It's easy to find differences between consumers in various markets, he says, but looking for similarities makes it easier to spot the benefits of taking something from another market. "Where you have to add in layers is when you can tell me – through research and insight – that it's not going to work, and the resources I saved from adapting something can be put towards something that'll have more of an impact," he says.

For example, nearly all advertising and product innovation on Juicy Fruit and 5 Gum came from the U.S. Those two brands were also seeing the greatest declines in Canada. Wrigley used the money it saved from adapts to pursue sponsorship deals with the Toronto Blue Jays and Raptors for Juicy Fruit. For the more teen-focused 5 Gum, the company partnered with snowboarder brothers Mark and Craig McMorris for a series of videos in 2015 that tied into its "Truth or Dare" contest. Individual wrappers within packages of 5 Gum displayed a different "truth" or "dare," and the brothers recorded themselves completing challenges.

"Globally, we talk about 5 Gum being the brand that helps you take risks," Alvo says.

Today, Juicy Fruit's market share in Canada is the highest among all markets, while 5 Gum is top for financial performance.

Many of the executions where Alvo has chosen to hammer home global brand values within the Canadian market have been in digital, social and experiential. Wrigley's Skittles brand relies on the iconic global "Taste The Rainbow" creative platform based around putting a surreal twist on reality. In Canada, Alvo's team produces digital creative with BBDO Toronto, such as an online mockumentary about a man made of Skittles and "Touch The Rainbow" videos that encourage viewers to "interact" by placing their finger over a Skittles candy on the screen. Over the last year, the brand has increasingly turned to events, like the "Holiday Pawn Shop" that allowed people to trade unwanted gifts for candy, or elaborate Skittles decorations in a Toronto neighbourhood for Halloween.

Since Alvo joined Wrigley, Skittles and BBDO have picked up numerous awards for local executions, including six Lions from Cannes, and it's become the top-selling single-serve candy brand in Canada.

Alvo says utilizing non-traditional platforms is less about having an innovation strategy and more about finding executions that will benefit a well-established brand positioning.

"The mental steps consumers go through before they buy a product aren't going to change because of technology," he says. "Executions are what changes, and you open up more of those if they're based in a strategy that meets the need of the consumer. Before, you might have just done TV or direct mail behind Pawn Shop. Now, I can barter online and get influencers to get the word out. I'm using tech and social, but the strategy would have been the same 10 years ago."

Some of the local Skittles work has been adapted globally, and Alvo relishes in being part of a greater whole that has developed a powerful, global brand positioning. But he's also been able to build brands here at home. Eight years ago, Excel gum – which is only sold in Canada – began using animated food characters representing bad breath (like coffee cups and garlic cloves) that had also been used for Wrigley's Extra brand in Australia. The Canadian brand used them in unique ads under a "Eat. Drink. Chew." tagline that showed "bad breath" not as something people should be shamed for, but as a common reality of everyday life. Three years ago, the brand and BBDO Toronto launched the "Bad Breath Isn't Sexy" campaign with the same characters, showing them in boudoir-style photoshoots. The most recent iteration was launched in the fall.

"'Sexy' was able to refresh the message because it stayed true to the brief: using those characters to keep the message friendly and making Excel the hero that solves the problem," Alvo says. "It seems like an idea that would wear thin, but when your brief is clearly defined, you have a strong foundation to explore new avenues."

While the "Bad Breath" characters were dancing across Canada, Excel experienced its sixth straight year of growth in market share, reaching near 40%. A strong Excel brand has also allowed Wrigley to drive growth for the brand in other categories. Excel Mints became the number two mint brand in Canada last year and the company launched a new, naturally-sweetened version of the gum last year to respond to more health-conscious consumer tastes.