Marketers of the Year: BMO's CMO Effect
Connie Stefankiewicz's leadership has created a more human effect for the brand, from the TV to the basketball court.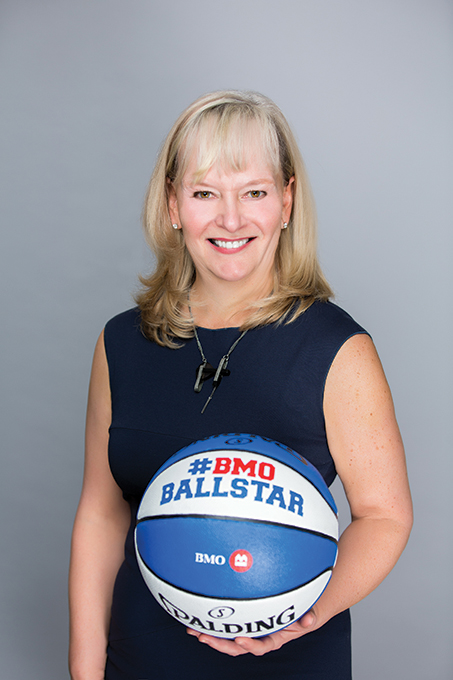 We're rolling out our Marketer of the Year profiles, diving into how six change agents each set new agendas for their teams, and came out swinging with a year's worth of success. Check back here for more next week.
This article appears in the January/February 2017 issue of strategy.
With everything from fingerprint scanning to chatbots going mainstream, banking today is not what it was in your parents' day (or maybe not even your older sibling's, for that matter).
Yet focusing on the simple, physical act of saying "hello" to a customer is just one of the ways BMO Financial Group is making itself stand out, a strategy CMO Connie Stefankiewicz pushed North America-wide.
The series of ads launching the "BMO Effect" marketing platform in early 2016 put a comical spin on our preconceived notions about in-branch banking – like showing the awkward moment when an employee greets a customer who has just walked in the door.
"One of the insights we had was that money is personal but banks often are not," says Stefankiewicz, who took the CMO role in mid-2015 after serving as the bank's head of North American channel strategy and solutions.
The journey to banking's more human side began under former CMO Joanna Rotenberg (now head of BMO's wealth management business). In late 2014, the bank launched its North America-wide "We're here to help" tagline (working with Y&R), replacing "Making money make sense," which it had used since 2008.
Stefankiewicz was part of the steering committee that contributed to the strategy, which is aimed at bringing a human touch to everything the brand does, inspired by the notion that "we're people first, and bankers second."
But, she says, the bank struggled to communicate the manifesto beyond its staff and current customers.
Enter "The BMO Effect." Led by FCB, which won the business in mid-2015, the platform's debut marked the first time in four years the brand had a consistent go-to-market strategy. Beginning with the aforementioned ads centred on the in-branch experience, "The BMO Effect" has since been extended across the bank's channels.
Bringing the idea to life for consumers and boosting consideration for its offerings has meant taking what Stefankiewicz says is a full-funnel approach, using its brand spots to communicate BMO's more human approach and staying away from too much specific product messaging in its mass creative work.
Take its "Pool" ad, which debuted in September. The spot featured a mom using her smartphone to open a chequing account while sitting poolside, much to the chagrin of her son who wanted the house to himself for a party with his pals. While the ad was for a concrete product – a chequing account that's easy to open – it focused on how BMO makes banking easy and intuitive, Stefankiewicz says.
When running as pre-roll, BMO then layered on digital ads to drive to specific information tied to the account (the bank works with KBS, which handles personal and commercial banking advertising, alongside FCB on branding and Maxus on media).
"The idea behind taking this full-funnel approach is really that we want our brand spots to do double duty for us," she says.
The creative is aimed at providing what she calls "emotional priming for acquisition." In the past, BMO had integrated offers directly into brand spots but research showed that approach is simply not effective, diluting the impact of the spot and failing to drive acquisition, Stefankiewicz says.
The approach extends to U.S. advertising for BMO Harris Bank. At press time, BMO was working on a new brand spot, highlighting the experience of getting a mortgage through the bank without focusing on rates or offers. Specific product-focused ads will then be layered on, with each piece of creative playing a unique role, Stefankiewicz says. (South of the border, BMO works with FCB, McGuffin Creative Group and PrometheusGM on media).
Bringing a consistent approach to BMO's key markets (Canada and the Midwest states in particular) was an important strategy for Stefankiewicz, who notes that many of BMO's 45,000 employees have cross-border mandates and that its advertising is seen on both sides of the border. Having a consistent voice was crucial for getting everyone, internally and outside the bank, behind what BMO stands for.
That hasn't meant ignoring cultural differences and unique regional insights. For the Quebec market, for example, BMO works with FCB's Montreal office to ensure its concepts work for that province. It comes up with new ones if they don't and re-scripts ads if needed, rather than doing direct translations ("Pool," for example, used a different punchline to convey the same message as the English version).
Tracking results have shown that BMO's approach this year has been effective, Stefankiewicz says. After less than a year in market, advertising awareness has jumped 36% for the brand in Canada, and all executions under "The BMO Effect" have met or exceeded targets for ad recall and main message communication. Brand favourability scores have also exceeded the norm for those who have seen the campaign.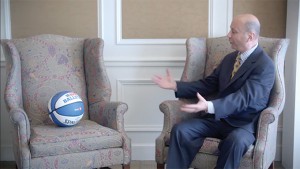 "The BMO Effect" has also stretched to the sponsorship side of BMO's business. For the NBA All-Star Weekend in Toronto last February, for example, it launched the "BMO Ball-Star," an irreverent anthropomorphized basketball that chatted with players in a series of spots.

At Toronto Raptors games, fans with BMO debit or credit cards have access to a special line, bypassing the crowds and often getting merchandise or other perks at the arena – all part of BMO's strategy to show off its human side and understanding of fans.

Stefankiewicz's long history within BMO, including working directly with clients, has given her a deep understanding of the business and the ability to harmonize the North American platform, delivering the same message and brand tonality across the bank's offerings, says Justine Fedak, SVP of brand, advertising and sponsorships at BMO.

Stefankiewicz has been with the BMO brand in some capacity for more than 25 years, beginning at Burns Fry in 1989 before the brokerage firm was acquired by the bank. In the early 1990s, she worked in a marketing role, doing everything from strategy work and new product development to mutual fund research.

"If you think back to that point in time, it was interesting because everything was very much a one-to-one relationship and individuals picking up the phone and calling," she says. "That was the beginning of a transition to looking at how marketing can help even a brokerage business grow by building brand awareness and compelling value propositions that resonate."

Stefankiewicz has also been innovating around media sponsorships and branded content, including through a partnership with The Amazing Race Canada that began in 2015.

With more opportunity to pre-plan this year, her team integrated "The BMO Effect" by creating original segments called "The BMO Effect Moment of the Race." The initiative included brief videos showing moments from the show where contestants went above and beyond to help each other out. The idea was to show how that feeling you get from being helped is indicative of "The BMO Effect."

The brand was also integrated into the show's challenges, including hosting the final leg of the race at its original branch in Montreal. Stefankiewicz notes that results from its Amazing Race Canada sponsorship indicate that viewer affinity and consideration for the brand has increased by 8% and 4%, respectively. What's more, its viewers have a 22% higher favourability towards BMO.

Up next, Stefankiewicz says she will be looking at more ways to reach millennials, a target the brand hasn't typically engaged. To start, the bank partnered with Vice Money in the fall, with BMO playing a role in content creation, including producing educational co-branded material around money issues to live on the site.

An approach centred on being more human might seem like it would rely heavily on gut instinct, but "The BMO Effect" still has a scientific side. The platform was a largely data-driven idea, with the brand strategy and positioning based on extensive research from surveys to ethnographic and qualitative studies, Stefankiewicz says.

It also employs facial coding for testing its brand spots, working with a specialist who reviews consumers' expressions to get an objective picture of how they're responding emotionally. In other words, it helps take the groupthink out of focus groups, she says.

"I am a sample of one," she says. "So the data and [my team's] informed perspective really help us to make sure we're doing the right thing and making the right decisions."

And for those who know her well, Stefankiewicz's collaborative model with her agency partners and her team has been a key factor in BMO's creative success.

"If you were to be a fly on the wall and watch one of our interactions at FCB, I think you'd be hard pressed to figure out who reported to whom," Fedak says.

"She takes perspectives, gets the collaboration and the commitment needed and will question if new information is provided, and do that in a very natural way," she says. "Everybody's got a voice with Connie, and I think that's unique."