Manchu Wok hits the courts
A partnership with the NBA for a Chinese New Year contest continues a more brand-focused approach for the QSR.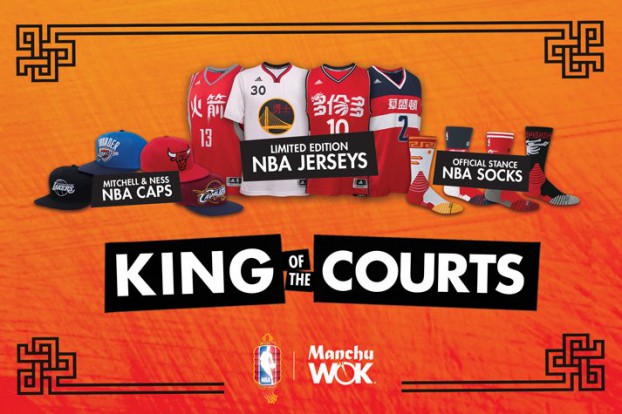 Manchu Wok has partnered with NBA Canada on a Chinese New Year contest that continues QSR's new approach to driving awareness and conversation for its brand.
Beginning earlier this month and running until early March, customers can win their own version of the special Chinese New Year jerseys that will be worn by the Toronto Raptors, Golden State Warriors, Houston Rockets and Washington Wizards during upcoming games to celebrate the holiday, as well as other NBA merchandise like socks and hats. Customers can pick up game cards with the PIN code they need to enter by purchasing meals at a Manchu Wok location.
The partnership is Manchu Wok's first in the professional sports space. Manchu Wok regularly celebrates the Chinese New Year, which has taken the form of limited time offers or special menus. Lucy Todish, director of marketing for Manchu Wok at parent company MTY Group, says the opportunity to partner with NBA Canada gave the QSR a chance to take a more brand-focused approach to the event.
"We looked at their fan base and what they had to offer for Chinese New Year and found some pretty obvious synergies," she says. "We probably would have been able to do some kind of contest on our own, but between having these great products available as prizes and their continued popularity as a league, it was a great way to elevate our own brand."
The contest is being promoted at Manchu Wok locations, as well as through digital and social channels. Lg2 Toronto is handling the creative and social elements for the campaign.
Over the past couple of years, the QSR has been moving away from being purely focused on products and limited-time offers to programs that drive awareness and connection with the overall Manchu Wok brand to stand out in the crowded food court environment.
"We're trying to get a good balance between when is a good time to do product innovation, and when is a good time to do brand awareness," Todish says. "We've been around for a long time and have a lot of brand equity that we don't want to lose, but we have approached it a bit differently in that we're driving more conversation about our brand so our brand does stay top of mind when someone is looking at all the options in a food court."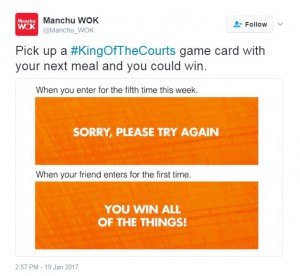 Some of the brand awareness work has been done through other contests, but also through a refreshed approach to its social media channels, where the brand has adopted a more playful tone of speaking to consumers.

"We were struggling with whether or not we even wanted to be on social," Todish says of when the brand began re-evaluating its social approach roughly a year ago. "Most brands make the mistake of just existing there and not creating any conversation. We didn't look at social as our way of driving traffic. We knew there were fans out there and conversations about our brand, we just weren't participating in them or talking back. So the approach we took was to open up the conversation with our fans in a way that's fun and relevant to the groups that are active there."