Jagermeister calls out its craft
A subtle design change on the outside speaks to all that goes into a bottle of the spirit.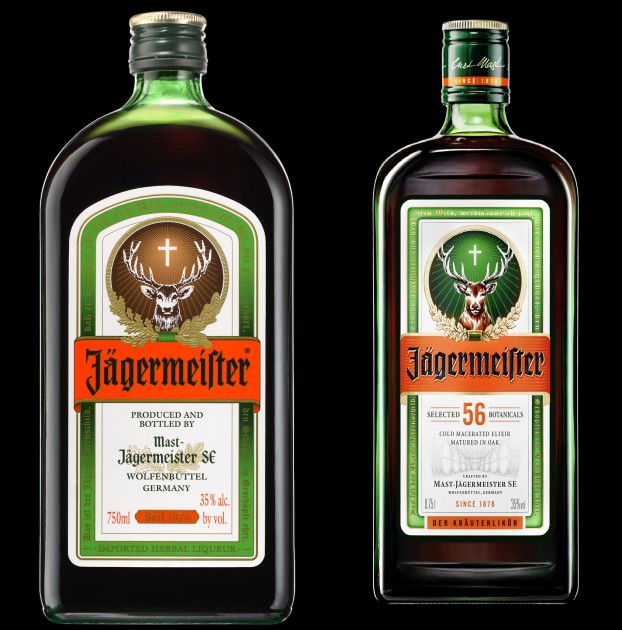 Pictured:  Jägermeister's old (left) and new bottle design.

Spirit brand Jägermeister is putting its craft at the heart of its marketing this year, following a change to its bottle design that places its ingredients and production process at the centre.

As part of a global move, the German herbal liqueur brand began rolling out a subtly redesigned bottle late last year. While still featuring the brand's iconic stag, the new bottle has a slightly different shape and stands a bit taller, to command a better presence on the shelf and at the back of  the bar.

Its label calls out the 56 ingredients in its makeup and the proprietary production process ("cold macerated essence refined in oak"). The bottle also includes a nod to the brand's heritage, including the signature of the spirit's founder, Curt Mast, and "1878," the year Mast's father, Wilhelm, created the company that would turn into Jägermeister.

The brand has long been known as a party shot, and a social one at that, with 70% of consumers taking shots of the drink in groups of four or more, according to Gérald Alvoët, senior brand manager for Jägermeister at PMA Canada, its distributor here.

In the early 2000s, the trend around the "Jägerbomb" (a shot of the spirit dropped into a glass of beer or energy drink) took  off, particularly with the college crowd. That wasn't something the brand itself supported – and actually actively discourages – but the trend did propel Jägermeister into being known as a "functional" shot drink, Alvoët says.

"For years and years, Jägermeister was known…as a high energy party shot, but little was known about what was in the bottle," he says. "Jägermeister is a high quality, premium, imported product and we needed a bottle that reflected that…character."

While the party aspect is still key to its strategy, the brand is now focusing more on the "meister" (translation: master) part of its name, he says. The idea is to have its marketing be agile and relevant for the whole night out experience, from getting ready to post-club commiserating with friends.

Jägermeister has always been a youthful brand, with a core target of consumers from legal drinking age to 29 (with some of its communication targeting up to age 39), skewing more urban and more male. Millennials, however, have different attributes when it comes to how they consume, Alvoët says.

The younger generation of consumers is increasingly interested in the origins and makeup of their food and drink, a trend that's been picked up on by various QSRs, spirit brands and CPG companies.

The change to the bottle's look wasn't dramatic enough to warrant a big investment in store, though the brand has updated its POS materials to look more premium and focus more on dark green and gold over the previously dominant orange and black, Alvoët says. The brand also had 3,000 retail staff across the country trained on the story around the new bottle's label.

In addition to retail programming, on-premise drink features, experiential events, print advertising targeting licensees and bar staff education, the new bottle and label was featured in a short video shot in Toronto, centred on the cold temperature the shot should be served at (-18 degrees Celsius). The video itself was a way for the brand to test its in-house capacity to drive local awareness, according to Alvoët . Within the first 48 hours, the video gained more than 75,000 views via YouTube and Facebook.

Sales for Jägermeister in Canada have, however, been soft since 2012, though it hasn't been hit here as hard as in the U.S., where Fireball Cinnamon Whisky began to dominate as a party shot, particularly with the college crowd.

While other spirit brands tend to invest heavily at retail, most of Jägermeister's business is on-premise, with its marketing focused on things like experiential activations at licensees such as bars, clubs and restaurants, Alvoët says. Much of its marketing strategy has also relied on event sponsorships, with music festivals in particular, something that's also going to continue (currently, it's a sponsor of Igloofest, part of Montreal's 375th celebrations).

Along with continuing its on-premise focus and sponsorship strategy, the brand plans to invest more in digital this year (it recently hired an in-house digital marketing manager), Alvoët says. It's also hoping to drive brand awareness with an above-the-line campaign in the second quarter of the year, which, like the new bottle design, will focus on the idea of "perfection" around its production, Alvoët says.

Jägermeister is also working on its influencer strategy, working with mixologists in major urban centres on working the liqueur into other non-shot drink recipes to help elevate the brand, Alvoët says.

The brand works with Jungle Media on media, Your Brand Integrated Marketing Communications for public relations and influencer marketing, InnerWorkings for shopper experience, Cruel for digital content production and a network of freelance content creators in Toronto, Montreal and Vancouver.